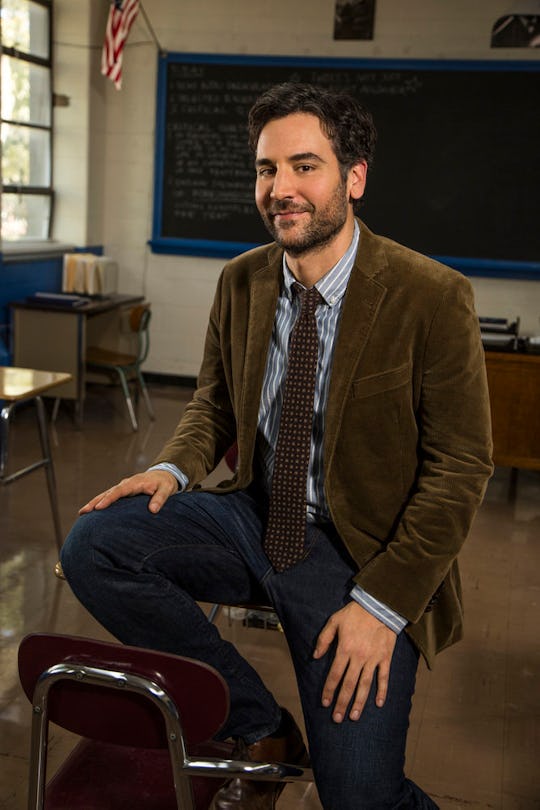 Eric Liebowitz/NBC
'Rise' Star Josh Radnor Is Much More Musically Talented Than You May Have Realized
When you heard that NBC was coming out with a new musical TV show starring Josh Radnor from How I Met Your Mother, you may have stopped and thought to yourself, as I did, "Wait, can Josh Radnor actually sing?" Rise could very well end up bring this actor's talents to light. The series is about a dedicated theater teacher (Radnor) who is determined to inspire his disaffected students through the power of the musical Spring Awakening. And as it happens, yes, Radnor actually can sing. Though he may not be belting it out as often as you might think on the show.
Rise is set in a small manufacturing town in Pennsylvania, where Radnor's character is a high school teacher and family man who can't seem to get through to his students. So he decides to take over the theater program in an effort to get the kids involved in something. The show also stars Auli'i Cravalho from Moana as the star of the school play, and the inimitable Rosie Perez as the theater teacher Radnor takes over for. The show is a musical, but the characters are all aware that they are singing, as most of the musical numbers take place as they are rehearsing. As the teacher, I don't know how many opportunities Radnor will have to sing himself, but if he does you can be sure he won't embarrass himself too much.
As it happens, there are lots of versions of singing Radnor. It just depends on what kind of singing you'd prefer him to do. There's silly-singing Radnor, like when he and Neil Patrick Harris broke into this acapella version of "For the Longest Time" on How I Met Your Mother, or when he and French Vine star Jérôme Jarre decided to sing Taylor Swift's "Blank Space" at the top of their lungs on the New York City subway.
You may prefer musical theater singing Radnor, which also exists. Radnor was in a benefit performance of the romantic musical comedy She Loves Me at the Stephen Sondheim Theatre for Roundabout Theatre Company alongside Tony nominee Kelli O'Hara and Jane Krakowski back in 2011. So at least Radnor himself is well-qualified to direct a high school musical. But if you think this is where singing Radnor ends, well then you would be sorely mistaken. There's more.
If you're interested, there is also mellow singer-songwriter Radnor. The actor teamed up with indie musician Ben Lee to form the aptly-named duo Radnor and Lee. As a musical group the two definitely still play together. In fact, if you're in the Los Angeles area at the end of March, they'll be playing a show there on March 22. But even if Radnor's particular brand of folksy, guitar-heavy crooning is not your cup of tea, at least you can admit that he knows what he's doing in the singing department.
If I was to hazard a guess as to which version of singing Radnor is likely to appear on the show Rise, I would definitely say the earnest Broadway Radnor is the most likely. Then again, perhaps he won't sing in the show at all and leave that to the students. After all, there's no way he can compete with Cravalho in the pipes department. Maybe the show will just let Cravalho and her young costars shine, with Radnor just contributing a bar or two.
In any case, now that I know that Radnor has plenty of singing experience, I feel far less awkward about knowing he's the star of a musical TV show. I just hope we'll get to see him in action.
Check out Romper's new video series, Romper's Doula Diaries:
Watch full episodes of Romper's Doula Diaries on Facebook Watch.