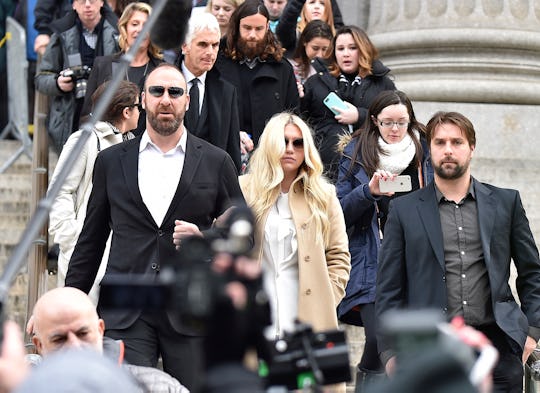 Alo Ceballos/GC Images/Getty Images
Can Kesha Work With Another Sony Producer? It's Very Complicated
On Friday, Kesha lost a preliminary injunction that would have allowed her to record music without longtime producer Dr. Luke. Why? Well, Kesha has been embroiled in a lawsuit with Dr. Luke, whose real name is Lukasz Gottwald, and Sony Music since 2014, when she claimed Dr. Luke "sexually, physically, verbally, and emotionally abused" multiple times throughout their decade-long relationship. While Dr. Luke denied the allegations (and actually countersued Kesha for extortion and a breach of contract), both cases continued — and continue to this day — hence the injunction. But without the injunction, which means Kesha will have to continue producing under her Sony contract, many wonder: can Kesha work with another Sony producer, or is the singer-songwriter forced to stay with her alleged abuser?
Update: Linda Carbone, founder of Press Here, which represents Dr. Luke, issued the following statement to Romper regarding Kesha's allegations that Dr. Luke physically and mentally abused her:
Kesha's allegations against Dr. Luke are false, concocted to smear him publicly so that Kesha can get out of standard industry contracts that she entered into after she claims the alleged incident occurred. We have publicly insisted all along that Kesha should admit her lies and tell the truth. Everyone has a responsibility to learn the facts before condemning Dr. Luke in the media, particularly since Kesha swore under oath that her allegations are false. When the truth wins out in court, everyone will recognize that Kesha has victimized Dr. Luke and actual victims of sexual assault with her lies.
It seems the matter is complicated, and the answer varies, depending upon who you ask. Kesha and her lawyer claim that, as the contract is now, she must work with Dr. Luke, but on Monday, Dr. Luke's lawyer, Christine Lepera, said it is a "myth" that Kesha is not free from his grasp, according to the New York Daily News:
The sound decision Friday by the Court in denying Kesha's motion for an injunction made it clear Kesha's allegations of purported abuse were unconvincing and that she had no basis to void record contracts and copyrights.
But music attorney James Sammataro told the Hollywood Reporter that even though Kesha didn't win the injunction, Sony and Kesha need to figure something out in order to allow her to make music — and work — in a safe and protected space.
Sammataro said not forcing Kesha to continue working with Dr. Luke is "clearly the right move from a PR perspective...," but that from a creative perspective Sony could be taking a risk because, "All they know is she's been successful with Dr. Luke."
On Monday, Dr. Luke took to Twitter to make his own multiple-tweet statement:
The Tweets go on and on and on. Kesha, on the other hand, has remained relatively quietly (only sending out one Tweet on February 18, the day before the verdict, to thank all of her supporters):
When delivering her verdict, New York Supreme Court Justice Shirley Kornreich noted Sony has given Kesha the chance to record without Dr. Luke, but Kesha's lawyers called that an "elusive promise," according to The Verge.