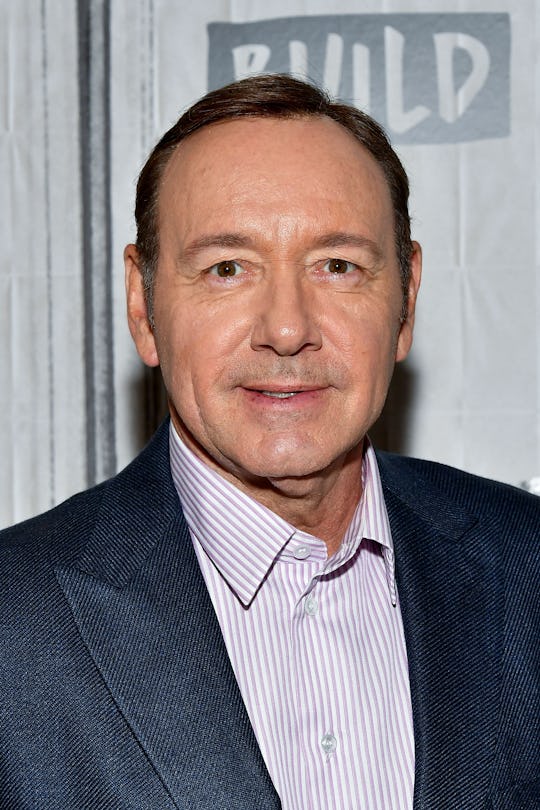 Dia Dipasupil/Getty Images Entertainment/Getty Images
Kevin Spacey Is A Man Of Many Talents
Kevin Spacey is hosting the Tony Awards this year and one has to wonder what he will bring to the table when the clock strikes 8 p.m. ET on Sunday, June 11. For example, can Kevin Spacey actually sing? Of course, it's not a requirement that the host of the Tony Awards has singing capabilities, but the ceremony is known for being a night filled with some of the best performances Broadway has to offer, and that usual includes a number from the host as well.
Though Spacey is best known for his incredible acting skills — in particular for his role as Frank Underwood in Netflix's House of Cards — it may interest you to know that he actually does have a very nice singing voice as well. Back in 2014, Spacey wowed crowds at The Harman Center in Washington, D.C. when he sang a multitude of songs as part of his benefit for his Kevin Spacey Foundation. According to USA Today, he belted out "Piano Man," "Luck Be a Lady," "You Make Me Feel So Young," amongst a number of other iconic tunes. During his rendition of "Piano Man," he also pulled out a harmonica, proving he's a man of many talents.
That wasn't the first time Spacey proved he could sing, however. In the 2014 film, Beyond the Sea, the two-time Oscar winner played singer Bobby Darin and sang every single song on the film's soundtrack, which you can find on iTunes and Spotify.
Most recently, Spacey put his pipes to good use when he joined Billy Joel during his monthly Madison Square Garden show in April. The actor went on stage and performed alongside the legendary singer for a duet of "New York State of Mind." And this wasn't the first time the pair sang together, either. The duo once sang "Piano Man," together a few years ago, so it's clear that Spacey is a huge fan of Joel. (Who isn't though?)
There's no doubt that Spacey has what it takes to do a musical performance worthy of the Tony Awards' stage. Though the Tony winner has stayed pretty secretive about the award show, it'd be surprising if he didn't open up the show with a big musical number, just as plenty of hosts before him have done.
Fans will just have to wait and see what Spacey comes up with, but whether it's a big musical number or a Frank Underwood monologue, there's no doubt Spacey will be a great host.
You can see the actor take the stage when the 2017 Tony Awards airs live on Sunday, June 11 at 8 p.m. ET on CBS.