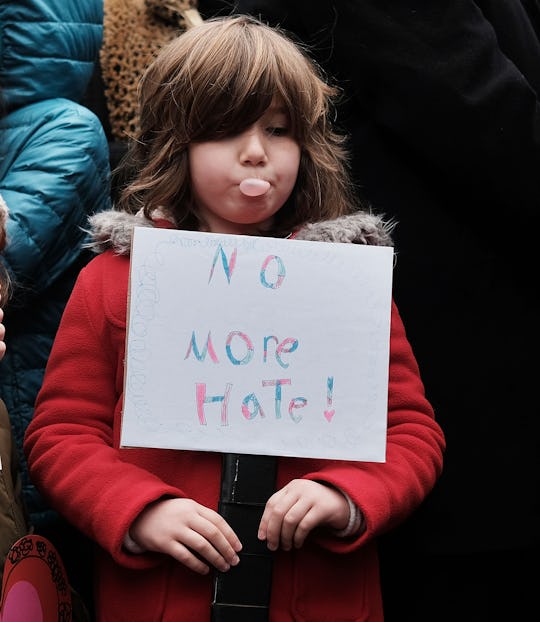 Spencer Platt/Getty Images News/Getty Images
Kids Will Def Be Joining The Women's March
Despite its name, the Women's March on Washington touts itself as being "for any person, regardless of gender or gender identity, who believes women's rights are human rights." Many of the attendees will be mothers caring for small children, and since affordable child care isn't yet recognized as a right for Americans, some are wondering, can kids come to the Women's March? Whether it's because they're raising little feminists or because they're breastfeeding, plenty of moms want to make it a family affair.
According to the march's official website, "The WMW has a team of experienced and professional national organizers working to ensure that every safety protocol is followed." However, participants are cautioned that "The decision to bring your children is a personal one." The march will employ marshals who can safely guide lost children to a "reunification tent," and lactation areas will also be provided for nursing mothers. According to Vogue, more than 200,000 people have registered to attend the march so far (and that doesn't take into account those who are planning on attending, but haven't registered), so it's going to be a very large crowd. Parents whose kids have issues with crowds would do well to take that into consideration.
The route of the march has not been disclosed for safety reasons, but it's scheduled to last from 10:00 a.m. until 5:00 p.m., which might be a lot to ask of a little one. Of course, participants are free to take breaks or leave early if they need to, but it's going to be a long day, with a lot of walking. Imagine taking your kid to Disney World for the day, but there are no rides, and it's cold. Folding chairs aren't permitted, but it might be a good idea to bring a stroller or a wagon, even if your child is normally a little too old for such things.
March organizers have set up a Facebook group for parents who plan to bring their children to the march, and families can sign up for a text alert system that provides additional tips and information. Portable toilets will be available, but that might not be ideal for kids who aren't potty-trained, or not so great at "holding it." Food trucks are scheduled to be on site, but it's never a bad idea to bring snacks – and that holds true for adults, as well! Finally, if you decide that it's not a good idea to bring your child, that doesn't mean that they can't participate in other ways. They can help make signs, you can text them pictures from the march, or even video chat with them so they feel like they're there. The revolution won't be over in a day, unfortunately, but that means that there will be plenty of opportunities for kids to get involved when they're older.