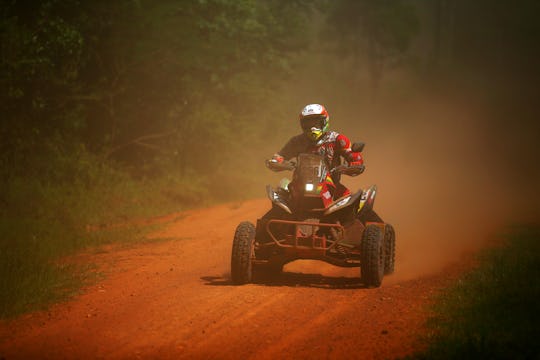 Dan Istitene/Getty Images Sport/Getty Images
These ATV Safety Tips Are Crucial For Kids
Jamie Lynn Spears' 8-year-old daughter Maddie remains hospitalized after a harrowing, all-terrain vehicle accident. Spears' daughter was driving her ATV on the family's property when a misjudged turn resulted in a severe crash into a pond. Parents with adventure-seeking children everywhere are now wondering: Can kids drive ATVs? Is it really safe to put a child in control of such machinery?
Maddie — who as of Thursday is reportedly doing "better and better," according to Spears' husband and Maddie's stepfather, Jamie Watson — was trapped by her vehicle upon crashing into the aforementioned pond. "Secured by the seat belt and the ATV's safety netting," Maddie remained stuck underwater until responders were able to help free her two minutes later, according to a statement from Tangipahoa Parish Sheriff Daniel Edwards.
Thankfully, Maddie's condition is improving, but this isn't always the case for other young drivers. A 2013 report by the U.S. Consumer Product Safety Commission (CPSC) found that 62 children lost their lives in ATV rides in just one year, while "25,000 were injured seriously enough to require treatment in a hospital emergency department." "ATVs are not toys," Rachel Weintraub, Director of Product Safety for Consumer Federation of America, explained, discouraging any sort of casual, children's use.
As for the proper age at which a child could be equipped to drive, Robert Block, MD, FAAP, and president of the American Academy of Pediatrics, has a few, important thoughts:
Children are not developmentally capable of operating these heavy, complex machines. The American Academy of Pediatrics warns all parents that no child under the age of 16 should drive or ride an ATV.
Maddie had received an ATV as a birthday present last year — specifically a Polaris RZR 170. Though hers is a special, "youth model," and thus equipped with "a parent-adjustable speed limiter," it is still only intended for children over 10 years old. However, the manual also notes that if a child under 10 years old has "the ability and maturity to operate [it] safely," then the ATV is fine for them to use.
As terrifying as this case has been, it's a stark reminder of why safety guidelines are so important for young children. ATVs are dangerous, and unless the model is a youth model appropriate for a child's age, their use should be saved for adults and qualified drivers of 16 years and up, as kids under 12 "generally possess neither the body size and strength, nor the motor skills and coordination necessary, for the safe handling of an ATV," according to The American Academy of Orthopedic Surgeons.
Experts everywhere agree: When it comes to ATV safety, age is definitely more than just a number.