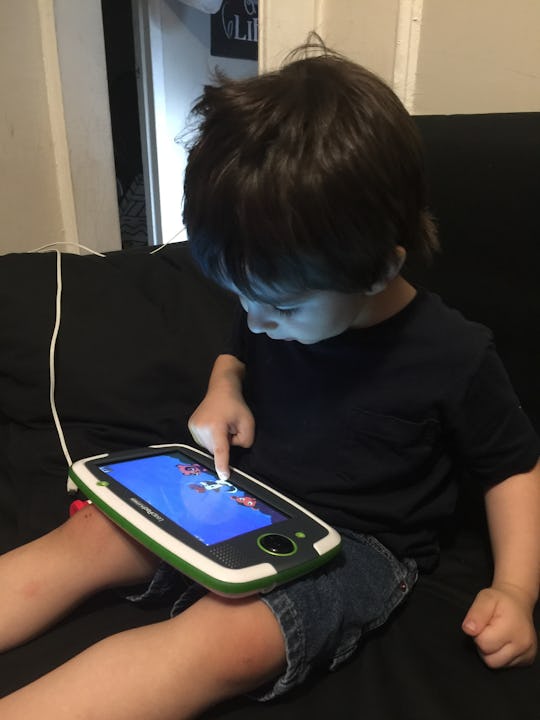 Courtesy of Danielle Campoamor
Turns Out, LeapFrog Can Be Really Beneficial For Your Child
"It takes a village to raise a child." You hear it all the time, right? As a parent, you've learned just how difficult it can be to juggle all the duties listed under the role. That means caretakers, day care programs, loving teachers, and even 20 minutes with a favorite television show, all play a role in helping our children grow. But what about reading? There are certainly many educational tools, like LeapFrog, that tout the ability to assist parents in teaching kids about the words on a page. But can LeapFrog help my child learn how to read?
"LeapFrog is among the rare electronic literacy development environments that has been shown to work well," Jared Miracle, an anthropologist and education researcher most well-known for trumpeting the benefits of gaming, tells Romper in an email interview. "The reason for this is that it's not just a toy; LeapFrog's unique learning system is an immersive, multifaceted environment. The benefits include cross-platform engagement, parental feedback, and a structured curriculum."
For example, Miracle explained, the company's Learning Path program guides kids from a digital game to an interactive video, then to an internet activity and suggested play with friends and family.
"Rather than locking your child into a single path, it actively suggests trying out new things," Miracle says. "At the same time, some of the products can provide targeted feedback to parents based on their child's performance. This immediate assessment is something teachers dream about."
In a blog post for the TODAY Parenting Team, Janine Huldie writes that familiar characters, like Hello Kitty and Disney's Sofia the First, left her girls even more excited to try the LeapFrog learning games. "For me, I was ecstatic that they were this excited to learn, because LeapFrog is able to utilize these familiar and loved kids' characters to help make the learning experience that much more fun," Huldie wrote.
Miracle says this is part of the success of LeapFrog. "There's no point in incorporating a method that won't hold a child's attention."
A 2009 study of six different software packages for literacy showed that only the LeapFrog product (LeapTrack) showed statistically significant, positive literacy results. "Studies like that, along with an analysis of the curriculum's structure, are why I am willing to promote LeapFrog to parents and educators," says Miracle.
He does, however, promote balance between technology and hands-on learning.
"Just buying a game and expecting it to do the heavy lifting is not a solid strategy for literacy," Miracle says. In order to raise lifelong learners, you need to have communication across the board, so a kid playing Pokémon is encouraged to then read the comic books — great for building vocabulary, by the way — and maybe then go outside to do some investigation of the real world.
"Games provide opportunities and supplementation, but they will never take the place of parental involvement," Miracle adds.
Sounds like a village to me.