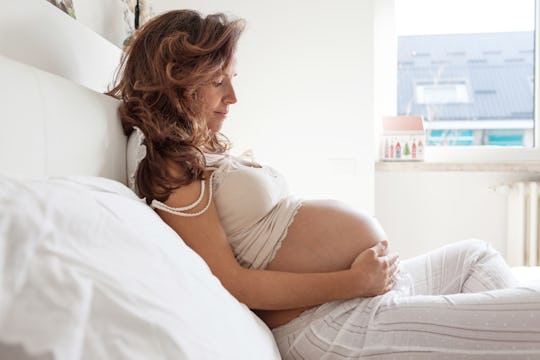 mninni/Fotolia
Can Masturbating Turn A Breech Baby? Bad News For Your Toy Drawer
You don't need me to tell you that masturbation can work wonders. It can turn an awful day into a blissful one within minutes (yeah, it's that good). But can it's magical powers affect your pregnancy? More specifically, can masturbating turn a breech baby?
Sadly, no. Manual stimulation can only go so far. Literally though, because your hand can't reach all the way to your cervix, up into your womb, (even if you're especially dexterous) and turn your breeched baby. According to Fit Pregnancy, four percent of babies born in the United States are breech at full term. So, when your baby is positioned to exit your uterus feet-first, you have three options. You can plan to delivery your breech baby vaginally, (Fit Pregnancy reported that vaginal delivery of a breech baby is safe in some circumstances, and not in others) or plan on a c-section. Or, if you're between 32 and 35 weeks pregnant, the ideal time to try to "flip" your baby, according to the same article in Fit Pregnancy, you can try to turn your baby before your due date using some of these affective and doctor-approved methods.
The Breech Tilt
Using cushions placed on the floor, lie with your hips elevated about 1½ feet above your head. Do this for 10 to 15 minutes three times three times daily. It's even better if you try the Breech Tilt technique on an empty stomach, according to the American Pregnancy Association, and when your baby is active. Although there are no statistics to back up the reliability of flipping method, Ina May Gaskin, founder of The Farm Midwifery Center in Tennessee and author of Ina May's Guide to Childbirth and Birth Matters told Fit Pregnancy that it works. It's worth asking your doctor about, right?
The Webster Technique
The American Pregnancy Association endorsed the use of a chiropractic technique developed by Larry Webster of the International Chiropractic Pediatric Association to relax the uterus and surrounding ligaments. When the muscles of the uterus are more relaxed, your baby is more inclined to turn naturally. The Journal of Manipulative and Physiological Therapeutics reported an 82 percent success rate for the Webster Technique.
Pulsatilla
The message boards on The Bump discussed pulsatilla, a homeopathic way to turn a breech baby. A naturopathic physician can recommend doses of this homeopathic tincture which might stimulate the uterus to turn the position of the baby to feet first, according to Fit Pregnancy.
On the plus side, science does prove that masturbation can lower stress by decreasing cortisol levels, as noted by Huffington Post. This fact makes fun-for-one ideal for the expectant mom of a breech baby. If you think you want to try methods to "flip" your breech baby, why not rub one out in the process?