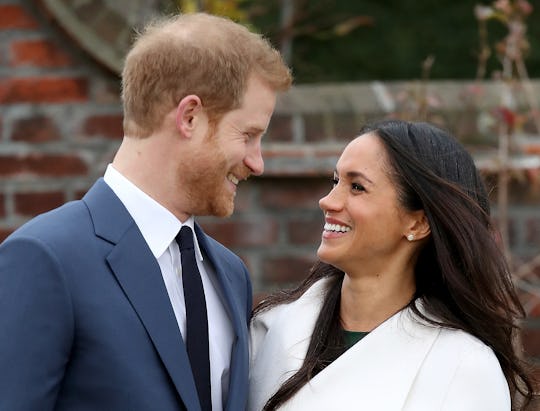 Chris Jackson/Getty Images Entertainment/Getty Images
Can Meghan Markle Become Queen?
On Monday morning, after months of speculation, Prince Harry and Meghan Markle finally announced their engagement via an official statement from Clarence House, where the Prince of Wales and the Duchess of Cornwall live. According to unconfirmed rumors, Prince Harry may have proposed to Markle back in August, and fans of the royal family have been clamoring for more info about her ever since. Now that another member will be added to the family, the important question that still needs to be answered is: Can Meghan Markle become queen? Markle will definitely receive a royal title, but here's where she will fall in line of succession to the throne (spoiler: she won't, really).
Prince Harry is fifth in line to the throne, according to The New York Times. He falls behind Charles, Prince of Wales; Prince William, the Duke of Cambridge; Prince George of Cambridge (yes, that adorable little Prince George); and Prince Andrew, the Duke of York, according to The Telegraph. The line of succession does not include the Duchess of Cambridge, as she has been married into the family and is not actually a part of the royal bloodline. Both of her living children and her future third child are in the line of succession, though.
Similarly, Markle will not be an heir to the throne. That doesn't mean she won't have a royal title, though. Her title is expected to be "Her Royal Highness, the Duchess of Sussex," according to The Mirror. Per royal tradition, on the morning of their wedding, the Queen will "bestow" (this is the most appropriate instance to use that word and I love it) a title upon them, which is likely to be Duke and Duchess of Sussex reportedly because there are so few other titles remaining that aren't bad luck, The Telegraph reported.
Then, if Markle and Prince Harry have children, their children would be lords and ladies instead of princes and princesses. Though it's likely the Queen could issue a "Letters Patent" like she did for Duchess of Cambridge Kate's children, giving them the title of "Her/His Royal Highness" and prince or princess, according to The Mirror. And, because the line of succession to the throne falls first to the "eldest living son" of each heir, it seems that would mean Prince Harry's children would be in line for the throne after him (and after Prince William's children) — assuming the Queen issues a Letters Patent like she did for the Prince George and Princess Charlotte.
If Prince Harry does take the throne, Markle still would not be "Queen" in the ruling sense, though she will take the female form of her husband's title, which would be "queen." At least, according to Royal Central, that's the case with Prince Charles' wife The Duchess of Cornwall, who will become queen once he takes the throne.
This title change — the fact that the wife of a newly-crowned king can become "queen" in title — is actually part of a decades-old debate about sexism and a lack of equality when it comes to spouses' royal titles. For example, the Queen's husband, Prince Philip, the Duke of Edinburgh, could not become king because English common law states that if the female royal's title already ranks above her husband's then she retains that title and he retains his. According to Royal Central, "A husband cannot generally take the male form of his wife's title on marriage, whatever her rank," though no reason why is really given. I would assume — and this is entirely an assumption — it's because women who take the throne are still somehow thought to have less power in rank than men who take the throne. But I'm no expert, and royal titles are confusing as hell.
To make spousal title changes more equal, Parliament has discussed making the wives of kings "Princess Consorts" as part of the Succession to the Crown Act. Royal Central reported that it's an issue Clarence House will continue to push for in the coming years.
In short, it seems Markle could be queen, but that's assuming Prince William and his children and the Duke of York couldn't take the throne and that this "Princess Consorts" rule doesn't end up passing. Phew, this is all so confusing. Can we go back to looking at pretty pictures of her ring?
Check out Romper's new video series, Romper's Doula Diaries:
Watch full episodes of Romper's Doula Diaries on Facebook Watch.