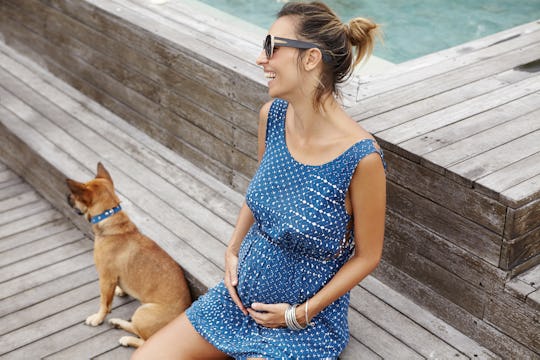 Wayhome Studio/Fotolia
5 Pregnancy Symptoms Your Dog Can Sense, Because He Knows You Better Than Anyone Else
I've had so many friends swear to me that their dogs were able to sense their pregnancy, that I just have to believe it's true. Dogs have intense sensibilities and have been known to warn their owner's of impending dangers, even helping protect sick owners during seizures and heart attacks, so it's no surprise that they can sense pregnancy, too. But can your dog tell you're pregnant before you're really even showing? If you have a pup at home, and are curious as to what changes he is picking up, it's important to know that there are some pregnancy symptoms your dog can sense.
While there is no definitive proof that dogs can sense, or furthermore understand what a pregnancy is, Dr. Richard Honaker tells Romper that dogs have been known to exhibit an intuition when their owner is pregnant because of their keen and sharp senses. Dogs also tend to be focused and attuned to their owner's emotional and physical states, noted What To Expect, which is why they are often trained to be emotional and physical response dogs for people suffering from blindness, Post-Traumatic Stress Disorder (PTSD), or other physical and mental health disorders.
There have been studies proving that dogs can sense cancers and other illnesses in humans, too, so it's not a stretch to consider that they can pick up on a pregnancy. So if you are pregnant and are noticing that your dog has been acting a little differently around you, here are five pregnancy symptoms that he might have already picked up on.