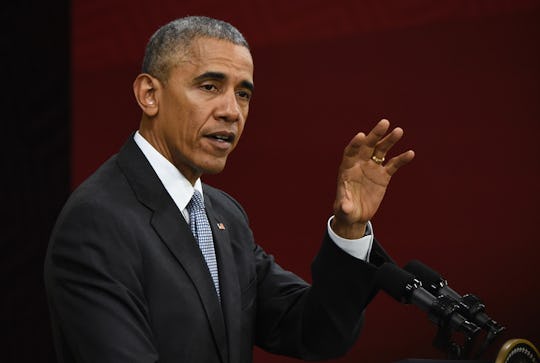 MARTIN BERNETTI/AFP/Getty Images
Can Obama Force The Dakota Access Pipeline To Reroute? The Company Says No Way
A group of about 400 Dakota Access Pipeline protesters were sprayed with water cannons in frigid cold temperatures by North Dakota law enforcement over the weekend as tensions continue to rise over the controversial oil pipeline project. President Obama has been working since September to get the pipeline rerouted around sacred Native American lands, to address tribal and protester concerns. So can Obama force the Dakota Access Pipeline to reroute? The company has said no.
Kelcy Warren, the CEO of Energy Transfer Partners, the company behind the pipeline, said the company has no intention of rerouting the pipeline, according to the Associated Press, though he hasn't given any reason for why. The planned project is a 1,200-mile oil pipeline would transport oil from North Dakota to Illinois, according to the Associated Press. Environmentalists and Native Americans, particularly the Standing Rock Sioux, which has reservation lands near the project, fear not only the contamination of local water sources, but say construction would destroy sacred tribal sites.
Since September, the Army Corps of Engineers has had ETP's permit for the pipeline under review, according to Reuters. But, despite the fact that the pipeline's permits have not yet been officially issued, the company has been positioning its equipment along Lake Oahe, and said once it's ready it will begin tunneling under the lake bed.
ETP has spoken out strongly against what it sees as unjustified intervention from the federal government and called the Army Corps of Engineers' decision to hold up the permits for the pipeline, "a reinforcement of the [Obama] Administration's lack of interest in enforcing and abiding by the law," according to Mother Jones.
ETP appears confident it will have an ally in President-elect Trump in getting the project finished, according to Mother Jones. "We find ourselves in, I believe, a really good position," ETC Warren said about the incoming Trump administration. "Overall, I'm very, very enthusiastic about what's going to happen with our country." Trump has financial ties to Energy Transfer Partners, according to The Guardian.
That comment from ETP came just days before law enforcement turned water cannons, tear gas, percussion grenades, and rubber bullets on protesters in 20-degree North Dakota temperatures, The Guardian reported. The standoff started at about 6 p.m. local time on Sunday, according to The Guardian, when a group of protesters tried to move two burned out trucks police were using to barricade a bridge.
"They're using that barricade as an excuse for us not to be able to lawfully protest," said Frank Archambault, a member of the Standing Rock Sioux Tribe from Little Eagle, South Dakota, told The Guardian. "We got word that the drill is now on the pad so tensions are high right now."
Now, it seems ETP is ready to move ahead with the project, emboldened by the election of Donald Trump, regardless of what Obama or his administration has to say about it.