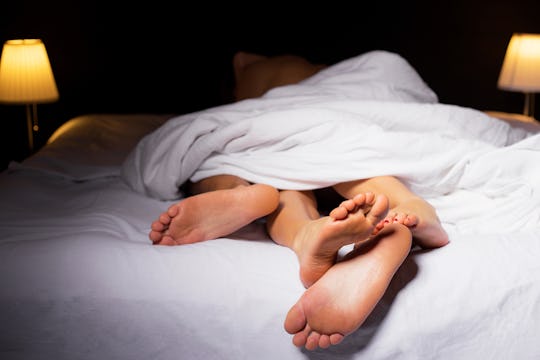 Kaspars Grinvalds/Shutterstock
Can Oral Sex Before Intercourse Prevent Pregnancy? Experts Explain
You're trying to get pregnant and determined to do everything right. Eating fruits and veggies, having sex every other day — maybe you even invested in an ovulation prediction kit. But could you be making a mistake between the sheets? Can oral sex before intercourse prevent pregnancy? It's a big, juicy controversy on the forums at Baby Center. Romper spoke with a fertility specialist to find out if saliva really impacts your partner's sperm, or if that's just another baby-making myth.
"It's a myth," writes Dr. Zitao Liu, MD, PhD of New Hope Fertility, in an email interview with Romper. "Saliva could have an effect on sperm. However, oral sex on a male won't affect the sperm that is being deposited into the vagina during intercourse."
In the article, "Can Saliva Kill Sperm?" The Bump reported that saliva has a negative effect on sperm motility — its ability to swim towards a more promising future — in lab conditions. As a result, researchers concluded that saliva doesn't make for great vaginal lubricant for those trying to conceive. But as Liu explained, oral sex on a male partner is likely fine.
While oral sex on the female partner might leave saliva in the path of ambitious sperm, Liu notes that this is mostly theoretical. The quantity of saliva, and the depth it reaches, "probably won't affect sperm quality. However, if you're worried, just abstain from oral sex while trying to conceive."
Dr. Edward Marut of Fertility Centers of Illinois agrees that saliva, as well as the average lubricant, don't help your chances. "Saliva may also cause an inflammation of the vulva," Marut writes in an interview with Romper. If you can't live without some kind of lubrication, Marut recommends organic lubricants like vegetable oil, butter, or margarine. He also recommends the lubricant Preseed, which is "clinically shown to be fertility friendly," according to First Response.
"And since non-vaginal sex has been brought up, never have vaginal intercourse after anal sex due to infection risks," warns Marut.
Reading the "trying to conceive" boards can be great fun, and makes it feel like you're embarking on an exciting journey with friends. But as with friends IRL, forum pals aren't always right, and when it comes to fertility — a complex issue if there ever was one — you can't believe every thread you read. If you have more questions about oral sex, don't be shy — your doctor knows where babies come from, and will be happy to answer any questions you have.