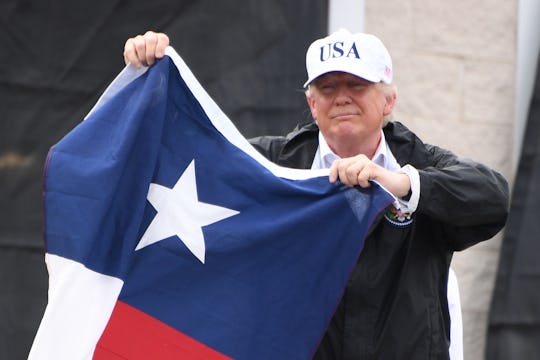 JIM WATSON/AFP/Getty Images
Trump Says He'll Donate $1 Million To Hurricane Relief
After President Donald Trump's quick visit to a city 250 miles southwest of Houston on Tuesday, a reporter asked White House Press Secretary if Trump had made any charitable donations to aid Hurricane Harvey victims, as he'd encouraged his supporters to do. "I'll have to check into that," Sanders said at the time. But can presidents even donate to charity, or is that a conflict of interest? It seems we've got a preliminary answer to that question, because on Thursday, Sanders told the press that Trump will donate $1 million to relief efforts, according to CNN. Sanders also said that he hasn't chosen which organizations to give the money to, though, and she's unsure whether the money will come from his personal account or the Trump Organization.
According to Forbes, President Obama gave away more than $1 million during his presidency, more than half of which went to children's and veterans' causes. He also gave $118,500 to disaster relief, including $16,000 to the Clinton Bush Haiti Fund, and paid $17,000 towards the construction of the Martin Luther King Jr. Memorial. Charitable giving wasn't new to Obama; during his time in the Senate, he gave away more than 90 percent of his salary to charity.
Trump's own history with charities is murky at best, since he refuses to release his tax returns. He and his surrogates often boast that he's given tens of millions to charities, but there's no evidence to support those claims. According to the Washington Post, Trump promised to give away his Trump University proceeds and his Apprentice salary, and publicly pledged donations to various charities over the years, none of which materialized. After investigating Trump's history with more than 400 charities, the Post was only able to verify one donation between 2008 and 2016; a gift of less than $10,000 to the Police Athletic League of New York City.
The president's "nonprofit," the Trump Foundation, is under investigation by the New York attorney general's office for making political donations, according to the New York Times, and the Post has reported that the foundation has functioned primarily as a way to slap Trump's name on other people's donations, without him spending a dime. Meanwhile, the Eric Trump Foundation collected donations meant for children with cancer and instead paid the money to organizations with "strong ties to Trump family members and interests" according to Forbes. If Trump does indeed donate to victims of Harvey, it might be his family's first charitable gift in nearly a decade. Let's hope for receipts.