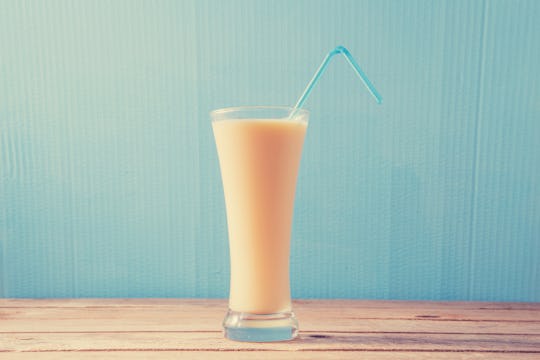 robcartorres/Fotolia
If You Drink Shakeology, Experts Want You To Know Its Effects On Your Milk Supply
As I'm sure you know, a certain popular meal-replacement has been showing up on the Facebook feeds of new moms these days claiming to be a superfood (complete with before-and-after photos). While the manufacturer doesn't make this particular claim themselves, a strange rumor is spreading across the internet — can Shakeology increase your breast milk supply? Or is it just another weight-loss powder?
According to Kristin Gourley, International Board Certified Lactation Consultant (IBCLC), no existing research suggests that Shakeology increases milk supply, though it is packed with essential vitamins and nutrients. While Gourley notes that it's not necessary to buy a special powder to help you breastfeed, it's absolutely a good idea to eat a healthy diet. As any breastfeeding mom knows, nursing is exhausting. Proper nutrition and hydration will give you the energy you need to make it through each day.
"If you're worried about your supply, it's best to put baby to breast more often and reach out to an IBCLC if you have further concerns, or your baby hasn't been growing well," writes Gourley in an email to Romper.
Anita Mirchandani, pre and postnatal fitness professional and resident dietician at Yummy Spoonfuls, explains that if Shakeology stimulates an increase in your milk production, it was probably an accident of high water content and a lactogenic ingredient or two. "Our bodies react differently," she writes, "so everyone's response to drinking such a product is bound to vary."
Ultimately, Shakeology is about weight loss. Its website claims to reduce junk food cravings, while providing a hefty dose of vitamins and nutrients that make you feel fuller, longer. While no mother should feel any pressure to lose weight — especially while breastfeeding — Kelly Mom recommended waiting two months before dieting if you're nursing. Breastfeeding itself burns calories — between 200 and 500 calories a day, in fact — and a sudden drop in the amount you're consuming might actually decrease your milk supply.
If you want to give Shakeology a go while you're breastfeeding, don't use it to replace entire meals. You need those meals. You deserve those meals. Drink the shake for the vitamins if you want to, but please, don't feel undue pressure to "lose the baby weight" — now or ever. In one of my favorite email interviews of all time, with Rosara Torrisi, PhD, of the Long Island Institute of Sex Therapy, she shared these wise words with me:
"Getting a body 'back' after giving birth is not a thing . . . Bodies don't go 'back' after puberty, they don't go 'back' after pregancy, they don't go 'back' after menopause. We move forward in time."
Amen.