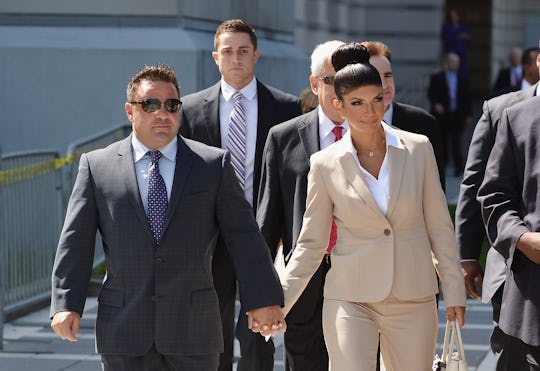 Mike Coppola/Getty
Can Teresa Giudice Visit Joe Giudice In Prison? Of Course, But There Are Rules
Now that Teresa Giudice of The Real Housewives of New Jersey has returned home after her one 11 month prison sentence, her husband Joe Giudice has just begun his much longer stay. Her emotional return was aired on the show, and the family prepared for Joe to leave. He told his oldest daughter Gia, "Now you have to do the right thing while I'm gone." Clearly the family will miss their patriarch, so can Teresa Giudice visit Joe while he's in prison? Of course she can, but she'll have to abide by some strict rules.
Some of these prison rules were touched on during Teresa's stay, such as the infamous list, and the fact that conjugal visits are not allowed at Fort Dix, where Joe will be staying for the next three or so years. Teresa returned home to start filming to some ready-made drama, as her sister-in-law and fellow 'Wife Melissa Gorga was a bit hurt that Teresa never put her on "the list." According to the Fort Dix handbook, upon arrival Joe will get to prepare a list of immediate family members (this would include Teresa and his daughters), as well as ten other friends and/or other relatives, all of whom will have to be approved by the warden. Once the list is approved, here are the rules they'll have to follow:
Visiting Hours
At Fort Dix, visiting hours are from 8:30-3pm on Sunday, Monday, Thursday, Friday and Saturday, but no visiting on Tuesdays or Wednesdays, unless one of those days happens to be a holiday. Additionally, each inmate gets 4 points per month, and every weekend or holiday visit costs a point, except for attorneys. Got that? Yeah, I'm confused too. If Joe is unlucky enough to be put into the Special Housing Unit (SHU), also known as solitary confinement, visiting hours are from 1pm to 2pm on Thursdays only.
Dress Code
The list of clothing items that are not permitted for visitors to wear include spandex shorts, skirts more than four inches above the knee, tube tops, halter tops, anything see-through, or spaghetti straps. Basically, it's advised to dress as if you're going to the Vatican. Oh, and no khaki.
What To Bring
Visitors are not permitted to bring cell phones, pagers, recording equipment of any kind, newspapers, or food. Teresa will, however, be allowed to bring under $20 in small bills in case she wants to buy Joe something from the vending machine. Teresa will also have to bring her ID, as government issued identification is required for all visitors older than 16.
PDA
Teresa of course will be allowed to hug and kiss Joe, but the rules state that the couple will have to keep it strictly PG and within the bounds of "good taste."
The rules here seem pretty strict, but all things considered could be a lot worse. And if it turns out that Joe will be eligible for early release as has been speculated, Teresa could have her man back in her arms before she knows it.