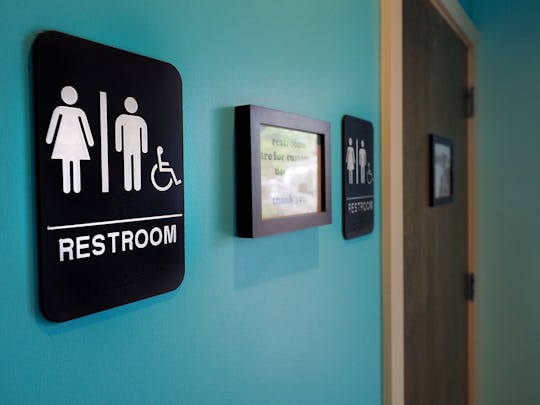 Sara D. Davis/Getty Images News/Getty Images
Can Students Sue The Government Over Trans Rights?
Earlier this week President Trump removed protections for transgender students put in place by former President Obama. Per the recommendation from the U.S. Department of Justice, every school in the U.S. was advised that if they did not allow transgender students to use the bathroom or locker room consistent with their gender identity (rather than biological sex) they could lose their federal funding or face lawsuits. Trump has now rescinded this recommendation, and many people are wondering: can the government be sued over transgender bathroom protections?
It's vitally important that trans students in the U.S. know that they have rights. While many school districts across the nation have said that they intend to keep the protections, or have already passed non-discrimination laws, there are plenty more that have wanted to see the recommendations go since day one. Trans youth in these communities will need support from their peers, parents, teachers, and schools — and they need to know that they have legal rights.
The Education Amendments Act of 1972 has a section, known as Title IX, that specifically states students can't be discriminated against because of their sex. Because sex and gender are two distinct concepts, many believe that Title IX doesn't protect gender-based discrimination. To address this, the U.S. Department of Education issued guidelines that explain how Title IX applies to the gender-based discrimination experienced by trans individuals:
Title IX's sex discrimination prohibition extends to claims of discrimination based on gender identity or failure to conform to stereotypical notions of masculinity or femininity and OCR accepts such complaints for investigation. Similarly, the actual or perceived sexual orientation or gender identity of the parties does not change a school's obligations.Indeed, lesbian, gay, bisexual, and transgender (LGBT) youth report high rates of sexual harassment and sexual violence.
If a trans student is attending a school that receives federal funds, whether it's private or public, Title IX protects them from discrimination. That means that a school can't force a student to "prove" their gender, they must respect a student's right to be addressed in the manner they choose (name, pronouns, etc.), and trans youth have the right to use the bathroom or locker room facilities that are consistent with their gender identity.
That means that even without the recommendation from Obama, a trans student is still protected under Title IX. The problem is, school districts aren't always compliant, and they may not do an adequate job of addressing and preventing bullying and discrimination. The U.S. Department of Education is supposed to oversee the adherence to Title IX, but they may not be aware of violations.
Although students have the right to file a complaint with the Office for Civil Rights (OCR) if they are experiencing discrimination, OCR is not currently investigating discrimination against trans individuals due to a judge's order to stop, according to The National Center for Transgender Equality. That being said, students should still file complaints, as the judge's decision could be reversed and the OCR could then return to those cases. PFLAG also offers a Claim Your Rights fact sheet, which can be downloaded, and includes more information about filing complaints.
Students should also be aware that OCR and Title IX aren't the only protections they have: they are protected under the First Amendment (which includes freedom of expressing one's gender identity), The Family Educational Rights and Privacy Act (which means information in their school record, like their sex at birth, can't be released without their consent), and The Equal Access Act (which says students can't be treated differently from their peers because of how they identify).
The American Civil Liberties Union (ACLU) also takes on cases of discrimination within the LGBTQ community — but as you can imagine, they've been flooded with requests as of late. Their most high profile case at the moment involves a 17-year-old named Gavin Grimm who lives in Virginia. Grimm sought permission from the school principal to use the boy's bathroom, and did so without issue for two months before parents began lodging complaints. Grimm, who is transgender, was forced to use the girl's restrooms and subsequently a single-occupancy bathroom that was constructed for him in accordance with the school board's new policy. Grimm sought the help of the ACLU, and his case is headed for the Supreme Court.
But what happens when the discrimination is happening at a federal level? Filing complaints directly to the Department of Justice is one way to have your voice heard, and the ACLU already has several lawsuits against The White House in the pipeline addressing the executive order on immigration that is widely regarded as being a ban. The ACLU has also made it clear that so long as the Trump Administration continues to violate civil rights, the organization will continue to fight for them — and that includes the rights of trans youth.