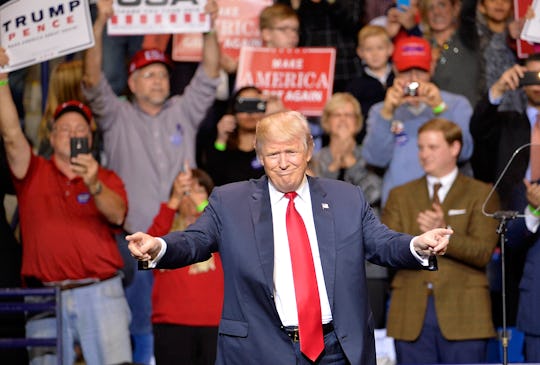 Sara D. Davis/Getty Images News/Getty Images
Can The Government Stop Rex Tillerson's Appointment? It's Possible
President-elect Donald Trump's inauguration is quickly approaching, but not without continued reports of public concerns about what his presidency will bring. In one of his latest nominations for his Cabinet, Trump named Rex Tillerson, CEO of ExxonMobil, as his pick for secretary of state. It's a pick that has been met with a lot of backlash from Democrats, Republicans, and people representing other political parties and leanings. One particular angle that's concerning for those who oppose Trump's nomination is Tillerson's previous business deals with Exxon and Russia, and his relationship with Russian President Vladimir Putin. Trump has confirmed his nomination, but can the government stop Tillerson's appointment? It's possible.
As explained in a report published in the Congressional Research Service (CRS) Report for Congress, the process to confirm a president-elect's appointment entails a few steps. After the president-elect makes a formal nomination, as Trump announced he did for Tillerson, the nomination is then given to a Senate committee relevant to the position, or "with jurisdiction over the position or the agency in which the position exists," as highlighted in the report. After the hearings conclude, the committee votes to report the nomination to the full Senate. As ABC News explained in a report, the committee then decides whether to report the nomination favorably, unfavorably, or without recommendation. The next step involves a majority vote on the Senate floor.
According to Yahoo, Tillerson's nomination would go to the Senate Foreign Relations Committee, of which Sen. Marco Rubio, a Republican from Florida and a former Trump opponent, sits on. Apparently, Rubio has some "serious concerns" about the Exxon CEO's nomination:
While Rex Tillerson is a respected businessman, I have serious concerns about his nomination. The next secretary of state must be someone who views the world with moral clarity, is free of potential conflicts of interest, has a clear sense of America's interests and will be a forceful advocate for America's foreign policy goals to the president, within the administration and on the world stage."
But Rubio also added that he would do his part to "ensure he receives a fair but also thorough" hearing, Yahoo reported.
As ABC News reported, the Foreign Relations Committee is a 19-member committee, with nine Democrats. If every Democrat on the committee opposed Tillerson and one Republican joined the opposition, Tillerson's nomination could be prevented from moving forward — though it's important to note that the last time this occurred was reported to be in 1989 when the Senate rejected President Bush's nomination of John G. Tower to be Secretary of Defense.
It will likely be a closely-followed confirmation hearing, considering Putin once awarded Tillerson the Russian Order of Friendship medal.