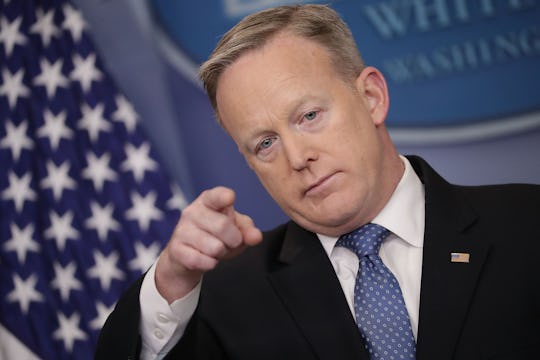 Chip Somodevilla/Getty Images News/Getty Images
Can The White House Search Staffers' Phones?
One could say that a bit of leak-ception has been taking place at the White House lately, with top administration officials' concerns about leaks being leaked to the press. Now, new reports claim that White House Press Secretary Sean Spicer, upset about the number of recent leaks, had staffers at one meeting last week subjected to a "phone check," in which their phones were allegedly searched without warning. But can the White House actually legally search staffers' phones?
Romper reached out to the White House for comment, but did not hear back immediately. However, according to Politico, Spicer reportedly spoke to White House counsel Don McGahn before gathering staffers, and White House lawyers joined him for the meeting. According to CNN, Spicer allegedly asked staffers to hand over both their government-issued phones and their personal phones to ensure that they weren't using encrypted texting apps (such as Confide) or communicating with reporters privately.
As some might expect, company- or government-issued phones can be fair game for inspection, depending on employers' policies. "An employer could give notice to the employee that the [company] will be monitoring the device, and the employee does not have a reasonable expectation of privacy," Laurel Finch, vice president general counsel for mobile device security firm MobileIron, told CNN in 2015. Considering that those in the executive branch are subject to the Federal Records Act, it's unlikely that government staff would have much of an expectation of privacy on their government-issued phones.
But what happens when it comes to personal cell phones? The answer might surprise some. According to Bloomberg BNA, employers can search employees' personal electronic devices during workplace investigations, although of course it depends on the circumstances involved. But attorneys that spoke with Bloomberg BNA said that employees' Fourth Amendment rights — i.e., their right to be safe from unreasonable "searches and seizures" — can effectively be limited or defeated by certain workplace policies.
There's one (rather odd) example out there to illustrate a court-upheld employer's request for a personal device to be searched. In 2015, NFL player Tom Brady was suspended after he didn't comply with a request to give up his personal phone during an NFL investigation regarding partially deflated footballs. (This incident was quickly and aptly nicknamed "Deflategate" by the media.) Investigators thought Brady's cell phone could have text messages on it regarding those deflated footballs, and the NFL suspended him when he refused to hand his phone over. According to Bloomberg BNA, the players' union challenged Brady's suspension in court, but after some back-and-forth in courts, the NFL won. Brady's suspension held.
So as it turns out, whether employees' personal phones can be searched or not depends largely on a few factors, including pre-existing contracts, policies, and whether there's reasonable cause for an investigation. And while leaks can be an important way to disseminate information to the press, they can also violate employee contracts or, in some cases, break the law — meaning that in a few situations, a judge might find reasonable cause for a search of personal property. For now, however, the consequences of Spicer's alleged phone checks remain to be seen.