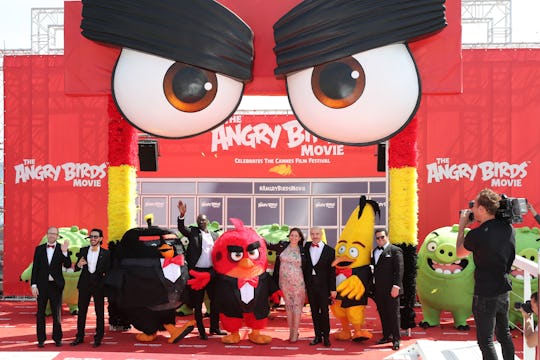 Neilson Barnard/Getty Images Entertainment/Getty Images
Can Toddlers Watch 'Angry Birds', The Movie? It's Got Something For Everyone
The makers of Angry Birds, the game, have branched out (birds, branch...get it?) to bring audiences Angry Birds, the movie. While there isn't much narrative substance to the game, the filmmakers went out on a limb to put together a surprisingly relevant and engaging backstory, and it paid off — big-time. Already, kids and adults alike are, ahem, flocking to the theaters. So, can toddlers watch Angry Birds, the movie?
On one hand, it's gotten mixed reviews, many of which rest on the fact that it's a spinoff of an inane, addicting phone game, and this is the state of the film industry — but put all that aside for a second. Angry Birds is truly an all-family movie. There's humor on every level, from funny noises, to slapstick, to Peter Dinklage one-liners. Despite the sometimes crude jokes, it's a parent's dream outing — the movie has a good number of pop-culture references that keep things fresh for an older audience, and the cast includes comedic heavyweights like Jason Sudeikis, Maya Rudolph, Bill Hader, and Josh Gad.
When it comes to younger viewers, there's something for them, too. The animation is bright, fun, and mesmerizing. There are also lessons aplenty. Like Pixar's Inside Out, Angry Birds takes a critical look at feelings, and how they can be channeled for good. The protagonist bird feels ostracized for being angry and speaking against the majority. But, over the course of the film, he turns his anger into passion and stands up for what he believes is right. Without giving too much away, it's a powerful message, especially in this political climate. Though the film is set in an imaginary land, the relationship between the birds and the pigs invading their home provides some beginner's commentary on colonialism, equality, and mob mentality. The lessons are clear and poignant and could provide great fodder for lively family discussions.
Despite the concept of the game, there is little in the way of violence. The birds do band together to defeat a foe, but they do it with brains, hilarious schemes, and bird-sized slingshots, rather than anything that could be scary to a toddler. (Though, if you don't want your toddler to know about slingshots, stay away.) Overall, it's a hit, and it's got the box office numbers to prove it. It opened last weekend and already it's grossed (is that a bird pun? gross/grouse?) $39 million, according to USA Today. That's puts it in third place in terms of animated debuts this year, after Zootopia ($75.1 million) and Kung Fu Panda 3 ($41.3 million).
Finally, though Angry Birds gets its name from a game, it doesn't require that you (or your toddler) know anything about it. It stands just fine on its own. If you are familiar with the game, that may make it a little more fun to see these birds come to life, but, really, it's not at all necessary. POPSUGAR interviewed Josh Gad, who voiced Olaf in Frozen and Chuck in Angry Birds. He said, "You don't need a comprehensive knowledge — or any knowledge, for that matter — of the video game. [The movie] exists on its own. . . . It's its own unique thing." The film may fall flat in some ways, but in it's wide-ranging appeal, it's a success. If you're looking for a toddler-friendly rainy day activity in the coming weeks, don't hesitate to fly to the theaters (sorry).