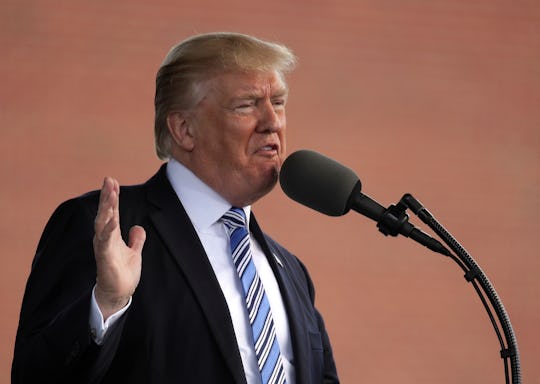 Alex Wong/Getty Images News/Getty Images
Can Trump Really Cancel White House Press Briefings?
White House press briefings seem to elicit a full spectrum of emotions from the American public, including everything from frustration to hilarity (the latter prompted by White House Press Secretary Sean Spicer's recent retreat into the bushes in order to avoid journalists, of course). The amount of criticism the press briefings have received, however, hasn't made President Donald Trump too happy, and he recently threatened to cancel them altogether. But could Trump actually cancel White House press briefings?
Since no president has ever actually done away with White House press briefings, it's unclear whether Trump's administration would be taken to court for eliminating press access to top government officials — but that hasn't stopped the president from repeatedly toying with the idea. "The Fake Media is working overtime today!" Trump tweeted on Friday. He continued:
As a very active President with lots of things happening, it is not possible for my surrogates to stand at podium with perfect accuracy! ... Maybe the best thing to do would be to cancel all future "press briefings" and hand out written responses for the sake of accuracy???
During an interview the very next day, Trump refused to say whether he would actually do away with press briefings, but said that he would like to. "Let's not ever do any more press briefings," he told Fox on Saturday night, according to Salon. Instead, he suggested sending out "a piece of paper with a perfectly accurate, beautiful answer," and hosting his own press briefings every couple of weeks.
It's rather hard to interact with a news brief, however, and canceling White House press briefings would strip journalists of their ability to question government officials — and thus hold them accountable. The White House Correspondents Association was quick to point out the danger of eliminating press briefings on Friday, with WHCA President Jeff Mason saying in a statement:
White House briefings and press conferences provide substantive and symbolic opportunities for journalists to pose questions to officials at the highest levels of the U.S. government. ... Doing away with briefings would reduce accountability, transparency, and the opportunity for Americans to see that, in the U.S. system, no political figure is above being questioned.
Yet politicians' move away from actual questioning and conversation with the people they are meant to represent seems to be growing, not diminishing, lately. According to Politico, only 14 of the 217 Republicans in Congress who voted to pass the American Health Care Act have scheduled upcoming town halls with their constituents. In some areas, Democratic representatives from neighboring districts have taken up the mantle, hosting town halls and pressuring them to have in-person conversations with their actual representatives.
Trump told Fox News that he would decide within "the next couple of weeks" whether to cancel press briefings altogether, according to Salon. But if that's the path the president chooses to go down, he should be prepared for outcry from people who believe the American government should be accountable to the people it represents. If Trump chooses to turn a dialogue into a public relations handout, he'll be endangering the very accountability and transparency that makes the United States a democracy.