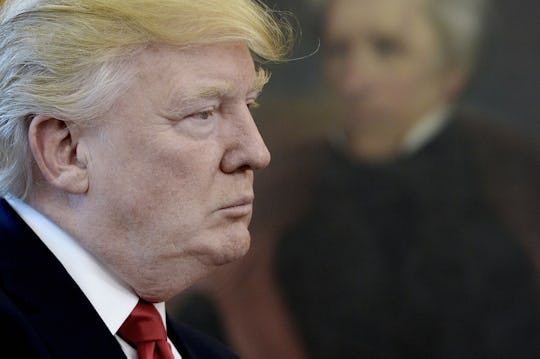 Pool/Getty Images News/Getty Images
Trump Is Being Sued For Allegedly Inciting Violence
The presidential race may seem like it took place ages ago — and fair enough, a lot has transpired since 2016's crazy election cycle — but surprisingly, courts are still dealing with the fallout from one nominee's controversial campaign. On Friday, according to ABC News, a federal judge in Kentucky nixed Trump lawyers' free speech defense against a lawsuit claiming President Donald Trump incited violence at a campaign rally. But what does that ruling mean, exactly? Does this mean Trump can be sued for allegedly inciting violence at his rallies?
According to Louisville, Kentucky Judge David J. Hale, yes. The three protestors suing Trump, three of his supporters, and his campaign after they were attacked at a rally can now proceed with their lawsuit. The protestors — two women and one teenage boy — claimed they were allegedly shoved and punched, and videos of the incident allegedly show Trump yelling, "Get 'em out!" while pointing at the protestors. This all occurred back in March 2016, just a few short months before Trump was confirmed as the GOP's presidential nominee. Romper has reached out to the White House for comment on the suit and is awaiting a response.
Trump's lawyers argued that Trump was using protected political speech, according to New York Magazine, and that the supporters who attacked the protestors were acting of their own volition. Hale, however, disagreed, saying that the violence only began once Trump pointed the protestors out from the stage. "It is plausible that Trump's direction to 'get 'em out of here' advocated the use of force," Hale wrote, according to ABC. "It was an order, an instruction, a command." And if speech incites violence, Hale said, it is not protected by the First Amendment.
So what happens now? The lawsuit against Trump will proceed — but even in his new White House role, Trump is no stranger to lawsuits. Two weeks before he headed to the White House, Trump had 75 lawsuits stacked against him, and only two weeks after his inauguration, Trump was facing over 50 new lawsuits. Jonathan Turley, a professor at the George Washington University Law School, told NPR:
The Trump administration may set records in terms of the number of lawsuits filed against the administration, or against President Trump personally. ... Those lawsuits that are found to have merit and are based on President Trump's personal conduct are likely to be something of a nuisance.
If courts rule that Trump needs to pay the protestors for financial damages, Trump would have to pay up — but that would probably be the extent of things. There could be other lawsuits that would see Trump kicked out of the White House, according to Mic, but this is unlikely to be the court case to deliver that blow. Still, it may be a good, money-incentivized reminder for the president that his words do have consequences.