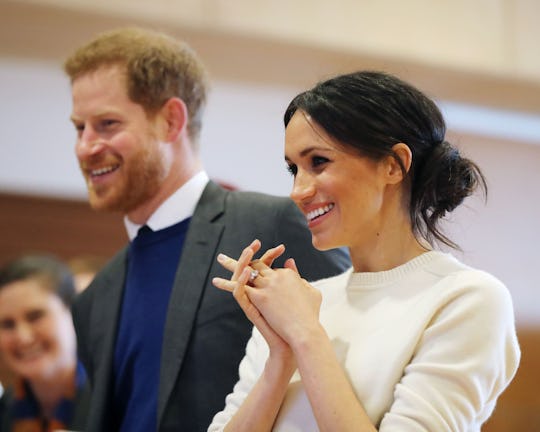 Pool/Getty Images Entertainment/Getty Images
Here's How You *Might* Be Able To Attend The Royal Wedding
Wedding season 2018 officially kicks off next month, and if you've heard the recent news that Prince Harry and Meghan Markle are inviting "regular people" to their nuptials this May, you may be wondering if you can attend the royal wedding. The short answer is, if you haven't gotten your invitation by now, then you're probably not going. But nobody is being completely left out, and if you're among a select group of normals, you might actually be on the guest list.
The ceremony will take place at St. George's Chapel, within the grounds of Windsor Castle. The approximately 800 seats within the church are already reserved for VIPs, but as Markle is a serious contender for the People's Princess Jr., she's making room for some of those people at her wedding. On Friday, Kensington Palace announced that an additional 2,640 guests would be invited to attend at the grounds of Windsor Castle, where they'll be able to watch the bride and groom (as well as all their famous guests) arrive and depart from the chapel. So hurry yourself to the fascinator store if you're one of the following: 200 people from charities the couple are involved with, 100 students from The Royal School and St. George's School, 610 Windsor Castle community members, and 530 Members of The Royal Households and Crown Estate.
Hey there, math whiz, did you notice that those numbers don't add up to 2,640? That's because I haven't gotten to the biggest contingent of golden ticket holders yet. An additional 1,200 guests are being invited onto the grounds on pure merit, such as "young people who have shown strong leadership, and those who have served their communities," according to the official royal announcement. Four such individuals were highlighted: Philip Gillespie, who lost his right leg in Afghanistan and works with a soldiers' charity; Pamela Anomneze, who runs an arts program for people with mental health issues; Reuben Litherland, a young boy who spends his lunch period giving sign language lessons to his classmates; and Amy Wright, Chair of the Board of Directors for a café that provides employment training for disabled young people.
Didn't make the cut? It's hard to feel jealous of such deserving people, and you needn't really, because you still have a shot at seeing the royal couple, albeit from a bit more of a distance. According to Kensington Palace, there are layers upon layers to this wedding. After the conclusion of the ceremony around 1:00 p.m. local time (and after the 2,640 looky-loos bid them adieu), Harry and Markle "will travel around Windsor in a horse-drawn carriage, providing an opportunity for members of the public to see them and join in with the celebrations." Yes, even you! The carriage will travel from Castle Hill along High Street and through the town, finally returning to Windsor Castle "via the Long Walk," which I hope makes sense to you if you're a local. After that, they'll have a reception for the 800 indoor guests, followed by a real reception for "close friends and family." So many levels. So many social tiers.
Honestly, though, the prospect of attending a royal wedding sounds a little overwhelming, anyway. Former royal editor of The Sun Duncan Larcombe was one of a handful of journalists invited to Prince William and Kate Middleton's wedding in 2011, and he told Elle that it's quite the spectacle. "Over 1,000 people sat there in absolute silence and all we could hear was the echoes of the crowds outside," he said. And you know that awkward period where you're sitting on an uncomfortable pew waiting for the thing to start? It's so much worse. "The wait for Kate's arrival felt like forever," Larcombe said. "We were probably there for two hours before she arrived." Hard pass!
But there is a free, easy, comfortable way that you can still watch the royal wedding, and you don't even have to leave the continent. The Today show will be covering it live starting at 4:30 a.m. EST, with Savannah Guthrie and Hoda Kotb running point, and the rest of the gang stationed around the country. But the royal wedding doesn't actually begin until 7 a.m. EST. Still, that's early for a Saturday. Do yourself a favor and DVR it, then watch at your leisure, fascinator optional.
Check out Romper's new video series, Bearing The Motherload, where disagreeing parents from different sides of an issue sit down with a mediator and talk about how to support (and not judge) each other's parenting perspectives. New episodes air Mondays on Facebook.