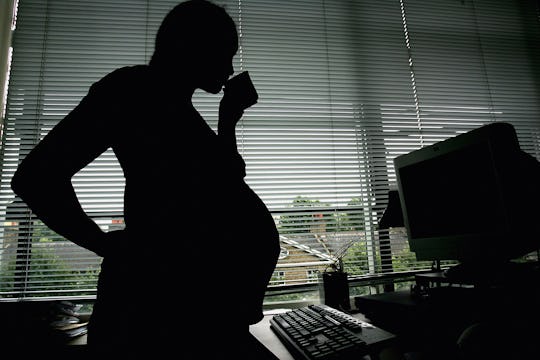 Daniel Berehulak/Getty Images News/Getty Images
Can You Be Fired For Being Pregnant? Recent Chipotle Lawsuit Proves It's Discrimination
Your entire life changes when you get pregnant, whether it's the changes your body goes through or a new routine you have to implement into your lifestyle. But, one of the things that shouldn't have to change is your job. It's illegal, after all, to be fired for your gender, race, and religion, but can you be fired for being pregnant?
Back 2011, a former employee at a Chipotle restaurant in Washington D.C. claimed this happened to her. Five years later, a jury awarded her a big payout — $550,000 in damages — after it was found that she had in fact been discriminated against by her ex-manager, proving that it's still totally illegal to be fired for being pregnant and that moms and moms-to-be always deserve to be treated fairly in their workplace.
Unfortunately, this was not the situation for Doris Garcia Hernandez, the former pregnant Chipotle employee. In the end, however, the law was on her side. According to the lawsuit, which was obtained by the Washington Business Journal, after Garcia told her boss, who is only referred to as David in the lawsuit, that she was pregnant, he reportedly started to impose odd rules and restrictions on her, but not for any other employees.
"Upon learning of her pregnancy, David told Ms. Garcia that she had to announce to every employee in the store when she was going to the bathroom and that David would have to approve her bathroom breaks so that he could cover her work position for her," the suit alleged. "David did not impose these requirements on non-pregnant employees."
Another issue, according to the lawsuit, was when Garcia told David she needed to leave work early one day so she could go to a prenatal doctor's appointment. David allegedly denied her multiple requests, but she went anyway. The next day, David reportedly fired her in front of her fellow employees.
The lawsuit's claims have discrimination written all over it and a jury spotted it. According to the U.S. Equal Employment Opportunity Commission, the Pregnancy Discrimination Act, "forbids discrimination based on pregnancy when it comes to any aspect of employment, including hiring, firing, pay, job assignments, promotions, layoff, training, fringe benefits, such as leave and health insurance, and any other term or condition of employment."
It further notes that "it is unlawful to harass a woman because of pregnancy." It also says that "harassment is illegal when it is so frequent or severe that it creates a hostile or offensive work environment or when it results in an adverse employment decision (such as the victim being fired or demoted)."
While it's against the law to be fired for being pregnant as long as the employee can perform the major functions of her job, an employer is not legally required to make it easier for a pregnant woman to do her job. However, pregnancy must be treated as a temporary medical disability and most state or local laws protect expectant moms against pregnancy discrimination.
According to the Washington Business Journal, Jonathan Smith, the executive director of the Washington Lawyers' Committee called the discrimination that Garcia experienced in her workplace "intolerable." He told the journal:
We are grateful to the jury for vindicating the rights of our client to be free from pregnancy discrimination and to send a message to other employers that this practice is intolerable.
Sadly, pregnant women are still forced out of jobs too often, even with laws in place. So, to make sure working pregnant women are treated fairly by their employer, they'll need to know their legal rights.
If it seems like something isn't right in the workplace, it might not be. Make sure to have a record and thorough notes of what happened and discuss it with a legal professional. Because the last thing pregnant women need to worry about is whether their job is in jeopardy.