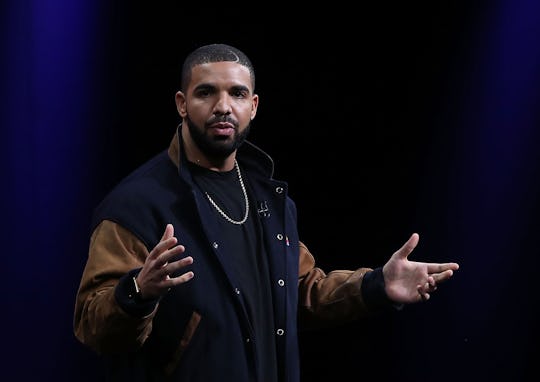 Justin Sullivan/Getty Images News/Getty Images
Can You Bring Kids To Drake's Summer Sixteen Tour? All Of The Venues Are Kid-Friendly
This year is shaping up to be the summer of some pretty exciting concert tours, including Drake's Summer Sixteen Tour, set to kick off in Austin, Texas, on July 20. The 40-show tour will span much of North America, with four shows in Canada, Drake's home country. Many of the concert stops are sold out, but there are still some venues with tickets left. And while live music concerts can be an amazing family experience — and make for a great summertime family activity — can you bring kids to Drake's Summer Sixteen Tour? Technically, yes, you can. According to Ticketmaster, none of the 27 venues individually outright ban children from attending, but don't skip the hotline bling with your babysitter just yet.
The general rule about children attending concerts at Summer Sixteen Tour venues is that children under 2 years of age may sit on their parent's lap for free and don't require a ticket. There are a few specific exceptions: At the Talking Stick Resort Arena in Phoenix, Arizona, a ticket is required for all concert-goers, including infants. At the Staples Center in Los Angeles, California, and the T-Mobile Arena in Las Vegas, Nevada, only kids 3 and up need a ticket. At the Toyota Center in Houston, Texas, the rule applies to height, not age: "Children less than 36" tall generally do not need a ticket, provided the child sits in an adult's lap."
If you're feeling particularly extravagant and are looking for a once-in-a-lifetime family memory, you could purchase a "6 God Meet and Greet" VIP package and get the whole family to meet Drake in person — for a cool $1,000 per person. There's no age restriction for purchasing one of these packages, which includes one ticket in the first five rows and a professional photo with Drake, along with a whole host of swag: a foam hand, a custom disposable camera, a "floaty" pen, and even a candle and an incense holder (I assume the candle and incense holder have Drake's face on them, and that item seems priceless).
For the most part — at least according to the Summer Sixteen Tour venues' admission and ticketing policies — kids are welcome and the very youngest children don't even need a ticket. But the bigger question is should you bring them?
If you're worried about what young ears might hear on the Summer Sixteen Tour, then it might not be suitable for your kids. It all depends on your own levels of lyric tolerance within your family. It won't be a solo tour for Drake: He'll be joined by rapper Future who will be performing tracks from his latest album, EVOL, on the Summer Sixteen Tour. Drake will be performing his latest album, Views, as well as 2015 album What a Time to Be Alive. All three of these albums carry Parental Advisory: Explicit Lyrics warnings. On Drake's Views, only two songs don't feature explicit content ("Hotline Bling" and "One Dance").
Not to mention, depending on where your seats are, taking your child to a Drake concert might not be terribly comfortable for you or your child. If you've got a squirmy little one under 2, that whole "lap child" situation might get out of hand, especially if you're not on an aisle seat. If you're especially close to the stage, everyone might be standing — and while you'd love for your child to see, hoisting them up on your shoulders will only get you scornful jeers of "Down in front!" — or worse.
Then there's the whole volume thing: Do you want to take your little one to an event that might leave their ears ringing for days, or, worse, permanently damage their hearing?
But those are all just logistical concerns to worry about. I know what's really on your mind: "What will other parents think if I bring my kids?" Honestly, it doesn't matter. You are not a bad parent if you bring a child to a live concert — plenty of parents and families do it every summer. Even a New Jersey judge ruled as much in a custody dispute where a mom took her 11-year-old daughter to see Pink in concert. New Jersey Superior Court Judge Lawrence R. Jones wrote in a 2015 opinion:
In this day and age, it is easy for parents to put off important bonding experiences with their children until a tomorrow which simply never comes. The positive value of this experience is not diluted in any fashion merely because there may have been some incidental curse words or allegedly suggestive themes during some of the songs at the concert.
So there you have it: Can you take kids to see Drake's Summer Sixteen Tour? Yes. Should you? Only if you want to. And if you don't take your kids to see Drake this summer, take your kids to the Cheesecake Factory instead — you just might run into Drake there.