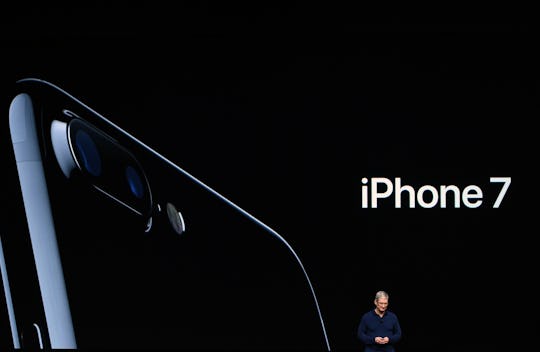 JOSH EDELSON/AFP/Getty Images
Can You Buy A Wired Headphone Adapter For The iPhone 7?
The iPhone 7 and the iPhone 7 Plus are rolling out this month, and all anybody can talk about is the headphone jack. I mean, the lack of head phone jack. That's right. Apple has nixed the 3.5mm headphone jack iPhone users have come to know and love over the years. To say there was an outcry over this new development would be an understatement. Apple customers were upset that they would have to make the move to wireless AirPods, or purchase a wired headphone adapter to keep using their beloved headphones. But can you buy wired headphone adapters for the iPhone 7, or will Apple give them away for free?
Well, a little of both. Upon purchasing the new iPhone 7 or iPhone 7 plus, customers will find that there is a Lightning-t0-3.55mm adapter packaged inside the box with the phone. According to The Verge, iPhone users will be able to plug in wired headphones to the adapter to use them with their new iPhone 7. Apple highlighted the fact that the dongle will be included for free during it's presentation of the new iPhone model last week.
Popular Mechanics noted that the dongle included with the updated iPhones isn't the only option for passionate wired headphone users. The lightning port that comes with the iPhone prevents users from charging their phone and listening to music with wired headphones simultaneously. This was not enough for some people who were opposed to the headphone-jack-less edition of the iPhone. Apple teamed up with accessory making company Belkin to solve this problem. Another article from The Verge reported that Belkin created an adaptor that allows iPhone users charge and listen to music at the same time.
The adaptor is called the Lightning Audio + Charge RockStar. The new product has two Lightning ports — one for charging your phone and one for the new EarPods. It's a bit more complicated than just plugging in your charger or headphones directly into the phone, however, it's a reasonable compromise between customers' wishes and Apple's vision for the future. According to the Belkin site, Lightning Audio + Charge RockStar adaptors will cost $40 and will hit stores on October 10.
If you're worried you may lose one of the many gadgets that are required for the iPhone 7 and 7 Plus, Apple is offering replacement dongle's for only $9. Ideally, you won't have to replace your free dongle. Just in case, though, Apple is making them relatively easy to replace for their customers.
The transition to a wireless world is definitely beginning. Wired headphones, according to Apple, are the first thing to go. It seems, though, that many iPhone users will be holding on to their headphones for as long as possible. Dongles be damned.