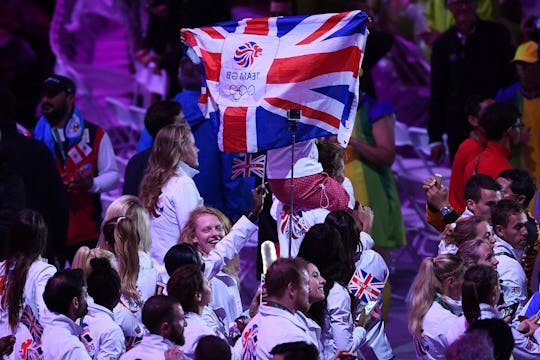 David Ramos/Getty Images Sport/Getty Images
Can You Buy Great Britain's Light Up Shoes From The Closing Ceremony? There May Be Hope
The U.S. may have stolen the show at the 2016 Olympic games, but the team members from Great Britain are the style stars of the closing ceremony. As the team walked through Maracanã Stadium on Sunday evening, viewers' eyes were drawn to the light up kicks on the athletes' feet. This lead many to wonder, can you buy Great Britain's light up shoes from the closing ceremony?
Update: Simon Jersey announced Monday that the sneakers are available for pre-order online. The Ladies Flashing Canvas Shoes are red canvas and are available in size 3 through size 8, while the Men's Flashing Canvas Shoes are blue and run in size 6 through size 12. Both have lights in the soles that flash red, white, and blue. For customers living in the European Union a pair costs £35.99 ($40.76); everyone else pays £29.99 ($33.97). Additional shipping fees may apply.
Countries are known for putting a bit of flair into their fashion for the first and final nights of the Olympics, but Great Britain went delightfully over the top. The country's 366 athletes rocked shoes with soles that glowed red, white, and blue as they strutted into the stadium. In a press release, a spokesperson for Simon Jersey, which conceptualized the footwear, said the Great Britain Olympians' footwear was inspired by Brazil. "Rio is known for its love of parties and carnivals and wearable tech is becoming more popular," the rep said. "So we thought the most fun and patriotic way to use this in the outfits is through lights." Each shoe has a USB charger inside so that each pair remains illuminated for about four hours.
It's unclear whether Simon Jersey will sell the shoes online; Romper reached out to the company but has not yet received a response. Prospective customers can contact Simon Jersey directly by phone or email to ask about placing an order; anyone who doesn't live in Europe may email international.helpdesk@simonjersey.com or call 0044 8444 994414 (though additional fees may apply). For anyone who wants to place an order ASAP, Bustle also put together a list of light up shoes that look a lot like Great Britain's sneakers.
Great Britain's athletes balanced out the bold sneakers by keeping the rest of their outfits casual. Women wore red shorts and men wore blue, according to Simon Jersey. All donned white jackets emblazoned with lion's heads (the team's emblem), "thank you" written in Portuguese (a message for host city Rio), and a "hello" to Tokyo (the 2020 host city).
It's a good thing Great Britain's athletes opted for statement footwear; USA Today reported that most Olympians at the closing ceremony had to put on plastic ponchos when rain began to fall during the show. Luckily, all of the teams had the opportunity to flaunt their amazing outfits while processing into the stadium, and Great Britain definitely stood out.