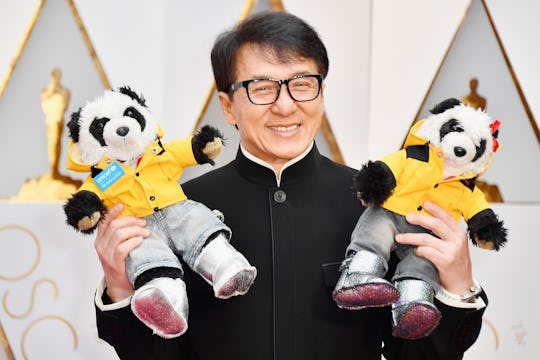 Frazer Harrison/Getty Images Entertainment/Getty Images
Yes, You Can Buy Jackie Chan's UNICEF Pandas
Having the right kind of arm candy for the red carpet is important for stars at the Oscars. But actor Jackie Chan brought something unexpected with him on Sunday night: a panda and a charitable cause. This, of course, left many viewers wondering if they could actually buy Jackie Chan's UNICEF panda from the Oscars red carpet and support the cause as well.
Chan has been a UNICEF ambassador for years and in 2010, he got the idea of taking two panda dolls all around the world with him. The idea was to make them so internet famous that he could auction them off. Chan is a self-described panda ambassador and actually owns two of the endangered animals in China, according to the Associated Press.
On Sunday, Chan's bears were dressed in yellow rain jackets and silver booties, along with UNICEF name tags. If you were confused, that's OK. UNICEF is a charity that assists children all over the world — not pandas. And the bears aren't for sale anywhere, so you can't buy one for your kids and also make a donation.
However, Chan told reporters on the red carpet Sunday night that he takes the bears everywhere and will eventually auction or donate them to charity, but he didn't specify whether it would be to UNICEF or to an organization that works with his favorite animals. It seemed more like he just likes raising awareness about everything, which is just fine with me.
It's a shame you can't buy the pandas (UNICEF and World Wildlife Foundation, Chan just gave you a fundraising strategy, BTW), but viewers will for sure hear more about them (maybe) later on in the ceremony. Chan has been in the business for a long time and although he won the honorary Governor's Award this November, tonight he will be presented with a Lifetime Achievement Award for his acting and martial arts work in films like Rush Hour, Snake in the Eagle's Shadow, and the Karate Kid remake.
Chan will be the first Chinese recipient of an Oscar. "It's unbelievable," Chan said on the red carpet. "I never thought I could get an Oscar." It's sort of crazy that he has never won an award before. The 60-year-old action star has been in over 100 films in 50 years and has done mostly all of his own stunts. He's an icon for his charitable work with pandas and his film work, and it's probably about time he was honored in Hollywood.
So, no, you can't buy the pandas. But if you're a Chan fan, you should probably go donate or adopt one anyway, it's an issue just as close to his heart as incredible stunt work in action movies.