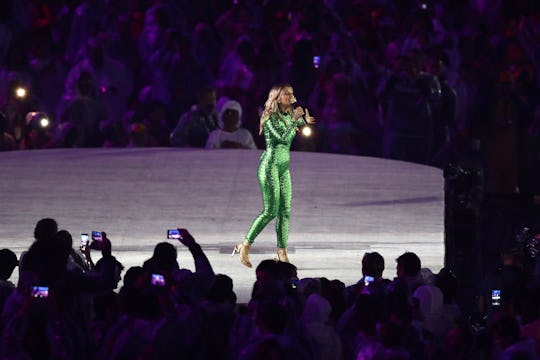 Alexander Hassenstein/Getty
Can You Buy Julia Michaels' Green Jumpsuit From The Closing Ceremony? Everybody Wants It
No, they are not Brazilian, but young music artists Kygo and Julia Michaels peformed the song "Carry Me" which is on Kygo's latest album and was co-written by Michaels. Although not everyone is familiar with these two artists, it was clear early on that many were immediate fans of Michaels' spectacular Britney Spears meets Poison Ivy outfit. So can you buy Julia Michaels' green jumpsuit? There's no word yet on where to obtain one for yourself, but everybody wants one.
The young singer from Iowa is just 22 years old, and has already co-written songs for the likes of Demi Lovato, Fifth Harmony, Justin Bieber, Kelly Clarkson, and the queen Britney Spears herself. For her Olympics performance, Michaels' poured herself into what could only be described as snakeskin, or, perhaps more simply described, a sartorial masterpiece of a sparkly green fabric.
Whatever it was, it was so fantastic it would have stolen the show if the performance itself hadn't been so great. Michaels was every inch the diva in her bright green ensemble, channeling all the pop superstars who came before her, from Britney, to Mariah, to Madonna. She was on trend and bold at the same time, and very simply, she looked divine. But try as I might to find this exact jumpsuit, I just can't.
A better place to start looking for an eye-catching getup that's similar might be — where else — the internet. No, you will probably not be able to replicate exactly the thigh-hugging beaut that this is, but you will find something perhaps slightly more office appropriate, using Michaels' jumpsuit as inspiration. Places like Asos and Zara stock fun, bright jumpsuits (though not quite as sparkly) that would work well on stage, or out to dinner. You know. Super casual.
Consider this gorgeous silky piece from Zara, or this fun backless jumpsuit from Kendall and Kylie which can be purchased at Nordstrom. No, neither of these pack quite the punch that Michael's outfit does, but it doesn't look like that one is available at any regular retailer. But while I probably won't be performing on an international stage any time soon — I'm more of a write on my couch in my pajamas kind of person — I may just use this killer outfit for some street style inspiration.