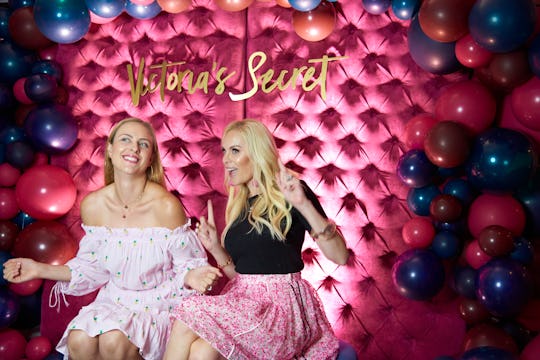 Cooper Neill/Getty Images Entertainment/Getty Images
Kameron Westcott's Sparkle Dog Has Received Mixed Reviews
For much of her time on The Real Housewives of Dallas, Kameron Westcott has been trying to launch her own brand of dog food called Sparkle Dog. She declared her dog food would be something special, because it would be pink, her favorite color. Kameron did eventually put the food into production with the help of her husband, but can you buy Kameron Westcott's dog food?
Sparkle Dog can be found on Amazon, with a eight ounce bag costing around $28.88. Currently that seems to be the only place the food is available for purchase, according to the company's official website. And it looks like Kameron is branching out into other pet products as well, because Amazon also has Sparkle Dog shampoo and Sparkle Dog multivitamins that come in "fancy pancetta flavor."
But even though you can buy Sparkle Dog, you might not want to. The food claims to be "all natural with additional vitamins, nutrients and coloring providing a diet that is rich in quality proteins and essential fatty acids." It also has vegetables and fruits among its ingredients. But don't expect it to be entirely pink. It has pink heart-shaped niblets mixed in among the regular brown kibble, and the pink is likely the "coloring" referred to on the brand's site. The list of ingredients contains something called "red #3," described by People as a "common food additive" that makes the hearts pink.
Though Sparkle Dog earned a positive review from People, the reaction has been mixed since its release. While some pet owners noticed no difference in their dogs while they were eating Sparkle Dog, others couldn't say the same. A few reviewers on Amazon noted that their dogs seemed to have an allergic reaction to something in the food that resulted in coughing, vomiting, or diarrhea. A few dogs simply didn't care to try Sparkle Dog. But another Amazon user said two of her dogs loved the food, while a third was disinterested; the only thing holding her back from purchasing regularly was the price, not the content. Overall, it has four stars on Amazon.
Kameron addressed the bad reviews in a statement released to Page Six. She said:
We have contacted Amazon and they are removing the fake reviews that have been created to sabotage our business. The 1 star reviews were done by people who never purchased the product and [are] meritless. Based on internal tests we have found that dogs bowel movements are unaffected by our food.
Kameron then suggested that customers give the food a try themselves. Page Six spoke with veterinarian Dr. Cindy Bressler about the concerns over certain ingredients, specifically the red dye and the cranberries present in the food. When it came to the cranberries, Dr. Bressler said that too many could cause upset stomachs, but they were fine in moderation. As for the dye, she noted that, "In general, food dye is not great for animals, just like it's not [great] for people. It can cause, in some cases, allergies, hypersensitivity and skin problems."
Kameron also spoke to Entertainment Tonight about how the backlash against Sparkle Dog surprised her. "They are some haters!" she said. "I mean, I didn't even realize how many haters there are in this world, it makes me sad." She went on to say that there were "a lot of positive things with our dog food," including the fact that they donated part of their proceeds to Susan G. Komen, the breast cancer foundation.
"Dogs seem to love it," Kameron said. "So, I can just hold my head up high and be so excited, 'cause it's going well." If you're interested in Sparkle Dog, you might want to check with your vet first to be safe.