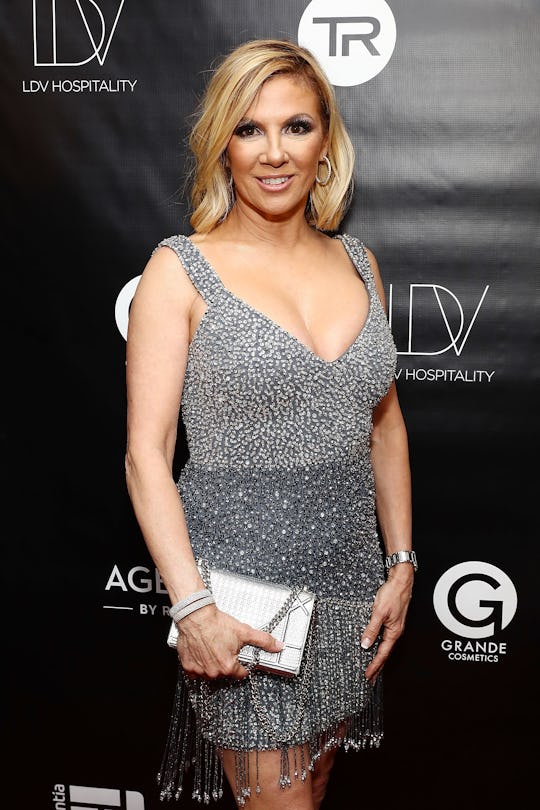 Astrid Stawiarz/Getty Images Entertainment/Getty Images
Bethenny Frankel Doesn't Think Ramona's Skin Care Line Really Exists
Ramona Singer is trying her hand at another skincare line after launching her first one, Tru Renewal by Ramona, back in 2011. She had a "pre-launch" party for the new line, Ageless by Ramona on Season 10 of Real Housewives of New York, presumably trying to market her new line of products. Naturally, fans wondered: can you buy Ramona's skincare line? It seems like her pre-launch was a tad premature.
Footage of the party already aired, which means that the actual pre-launch was months ago. But Ageless by Ramona still isn't available for purchase yet. Her website has a section devoted to the line but all the Ageless by Ramona link offers is some inspiring quotes by the entrepreneur, along with a promise that her line will "blow some candles off of your cake." But the actual products aren't shown anywhere and the website simply says that the line is "arriving soon." So what does that mean exactly?
Bethenny Frankel's conspicuous absence from the pre-launch party stirred up a tiny bit of ~drama~ and she took to Twitter after the episode aired to elaborate on why she chose not to attend. And it seems like Bethenny simply doesn't think the line exists.
Clearly at the end of her rope with people coming at her for not being supportive of other women's businesses, Bethenny explained that she wasn't going to support fake product ventures. "I am done allowing people to pretend business is easy or have pretend parties to launch products that are fairytales," she tweeted.
Of course, Bethenny didn't blindly support Sonja in her business ideas either — Sonja's Tipsy Girl Prosecco comes to mind. She caught a lot of flack then, too, for not uplifting her fellow woman. But Bethenny is firm that she is only interested in authentic portrayals of the hustle — not what she views as vanity projects by people with no real stakes in the game.
As for Ramona, she's standing by her product. Back in April, she told Bravo's The Lookbook, "This is something that I really believe in. I really see a difference in my skin by using anti-aging skincare." Honestly, it's savvy of Ramona to capitalize on K-beauty trends like hyaluronic acid serums in a moment when they are as popular as they are. Multi-step at-home skincare routines are in — and Ramona knows it. But that only matters if she can actually deliver on the product!
"[The Formula] really promotes collagen and cell renewal, which is what you need because getting a facelift doesn't do that, injecting doesn't do that," Ramona adds in her interview. So it does seem like Ramona knows what she's talking about and is familiar with her market despite Bethenny's skepticism.
While her skin care line is not yet available, this is not Ramona's first rodeo when it comes to business. Never forget Ramona Pinot Grigio, or the fact that she is still part-owner of the bar and grill AOA in New York City. I'm positive Andy Cohen will spend some time holding her feet to the fire at the reunion over what the skincare line's status is. Until then, we'll have to patiently wait.