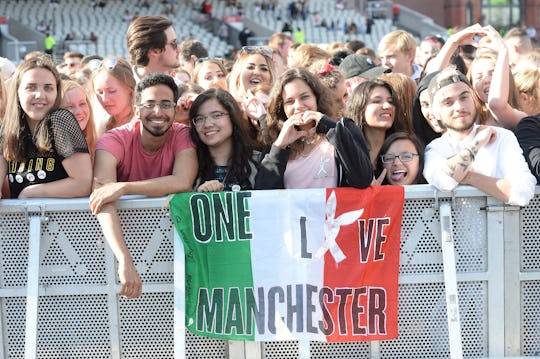 Getty Images/Getty Images Entertainment/Getty Images
How To Buy Robbie Williams' Manchester "Strong" Song
Today is the day when the world comes together to honor the victims of the terror attack that took place in Manchester nearly two weeks ago. The One Love Manchester concert brought together performers from across the world to pay tribute, to the victims. One song, however stood out from the rest, especially fans of the group Take That and former member Robbie Williams. So can you buy Robbie Williams' One Love Manchester "Strong" song? The original version is available online, but his latest performance might have been a one-time-only event.
As acts of violence and terrorism are becoming a lot more mundane than they should be, this weekend's incidents in London have made painfully clear that life is short, fragile, and unpredictable. And following the terror attack at an Ariana Grande concert at the Manchester arena nearly two weeks ago that killed 22 concert attendees, the world really needs to come together. Which is precisely what the One Love Manchester concert is doing.
Organized by Grande herself, the concert was set up to benefit the victims of the attack, and the British Red Cross. And as many famous performers make their way to the stage Sunday, some singers' special renditions of well-known hits have many wondering if they'll be able to relive the emotional, beautiful moments of the concert.
And when Williams took the stage in Manchester on Sunday, fans just knew that his performances were going to be unforgettable. According to The Telegraph,
Halfway through his show, he encouraged fans to join him in a rendition of Strong as he changed the lyrics to "Manchester we're strong, we're strong, we're strong".
However, actually purchasing the special Manchester version of William's 1998 hit may prove to be more difficult. While the singer has made several versions of the song available for downloading, fans might just have to scour Twitter and all over the internet to rewatch the powerful moment.
(Or just read this article.)
With everything that's happening round the world, and the many lives that have been unfairly taken, Williams' special performance of the already-powerful song has taken on a whole new meaning. While many across the globe were understandably taken aback by the incidents in London yesterday, the performers in Manchester remain steady, strong.
50,000 concert attendees sang along to Williams' amended version of "Strong," which truly made it a once-in-a-lifetime event. And while it may not be ready to download (yet), you can still watch the One Love Manchester version online, and see the lyrics here.