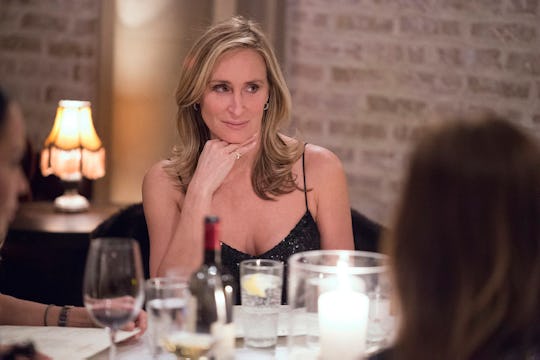 Dave Kotinsky/Bravo
Can You Buy Sonja Morgan's Prosecco On 'Real Housewives'? Fans Will Have To Wait
As we bear witness to Sonja Morgan's birthday celebration on Season 8, Real Housewives of New York fans are treated to the announcement that she'll be launching a Sonja Morgan pink prosecco line, which she just so happens to have a few bottles of on hand to pass around at the party. Bethenny isn't in attendance, which is probably for the best, since Sonja's working name for the line is Tipsy Girl, which sounds awfully familiar. So can you buy Sonja's prosecco on RHONY yet?
Well, Bethenny promptly ran to court to try and trademark Tipsy Girl, but it was months after Sonja and her business partner Peter Guimaraes had already registered the name. Sonja, who claims she picked the name innocently and the similarity to Bethenny's Skinnygirl alcohol didn't occur to her, seems to be choosing friendship over business this time.
She told Khloe Kardashian in an episode of Kocktails with Khloe:
"I have to do something about the name. My girlfriend Bethenny wasn't thrilled with that. It didn't hit me, and then Bethenny was like, 'Uh, I don't like that.' And I was like, 'Oops, OK. We need to go back to the drawing board and figure something out that doesn't come between my friendship. You know, I love the name, and I want to work. I'm just trying to work."
Her party, which was well-stocked with many bottles of Tipsy Girl, took place on November 24, but there's still no word on an actual release date of the alcohol. While I sincerely hope Sonja's prosecco won't go the way of her toaster oven, she hasn't given any indication of an exact date we'll see her wine on shelves. There were some reports that Sonja claimed her wine was available for one week, but she didn't indicate where it could be purchased. According to Page Six, "Guimaraes says Tipsy Girl prosecco is in warehouses awaiting distribution, with plans to expand to tequila, vodka and wine and retail locations."
It doesn't seem too complicated or particularly time-consuming to hire a branding team to help strategize new names for a product that's finished and ready to go, with the exception of a name. Hopefully, the issue gets resolved before Sonja is stuck marketing prosecco wine vinegar.