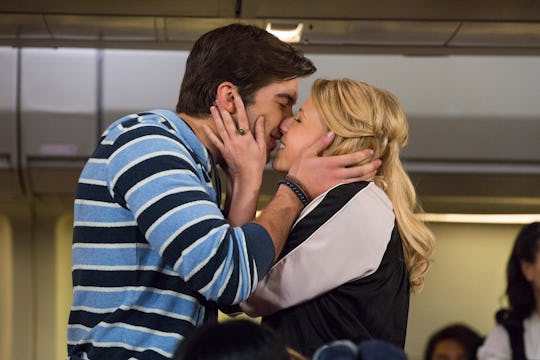 Mike Yarish / Netflix
Stephanie's New Song On 'Fuller House' Will Give You All The Feels
The second half of Fuller House Season 3 has arrived on Netflix, and with it comes answers to all those cliffhangers in the first half as well as some new music. In Episode 18, Stephanie (Jodie Sweetin) performs a song for Danny, Joey, and Jesse, as well as the other important people in her life, called "You Bring Me Luck." After hearing the perfect tune you may be wondering if you can buy Stephanie's "You Bring Me Luck" song from Fuller House.
Unfortunately, the song isn't on iTunes just yet, but the season was only just released. It wouldn't be surprising if the song became available for purchase very soon. "The Boy Next Door," another original song Stephanie performed on Fuller House, is currently available on iTunes, so the show clearly doesn't object to making the show's music available for fans. So just keep an eye out for it. Until then, you can just keep rewatching the episode to enjoy the love-filled song. Warning: Season 3B spoilers ahead!
In the episode, everyone is celebrating the anniversary of when Joey and Jesse moved in to help raise D.J., Stephanie, and Michelle, who probably couldn't make it to the party because she's a busy fashion designer in New York. Regardless, the party is filled with a lot of reminiscing and a few surprises, but what really topped off the episode was Stephanie's heartfelt song.
"You bring me luck / Oh my life has changed so much / Just when I've nearly given up / You brought me luck," Stephanie croons, as she walks around singing/hugging to her family and friends. "You make your luck / Some say you just get struck / But holding your hand makes me understand."
Sweetin's voice continues to wow fans as she made the song her own, and it's definitely a single you'll want to play on repeat. Here's hoping she'll one day release an album; her vocals should totally be heard more than just on the show. For now though, it's awesome to see Sweetin's other talents being put to use and it was not only the perfect song for her, but the perfect song for Stephanie.
Since the start of Fuller House, Stephanie's has faced a number of battles, mainly centered around her desire to have kids. Early on, she revealed to D.J. that she was unable to have any, but thanks to a little nudging from Aunt Becky, Stephanie visited a fertility doctor and learned that she still has some viable eggs. Thankfully, her family stepped up in a big way. Everyone offered to pitch in to help pay for the in vitro fertilization (IVF) process.
To top it all off, Kimmy volunteered to be the surrogate. And thus a plan was formed and Stephanie is well on her way to having all of her dreams regarding motherhood come true. By the end of Season 3, it is revealed that Kimmy is pregnant. I have no idea how far along she is or whether it's a boy or a girl, but regardless, Steph is going to be a mom and I'm so happy for her!
Suffice to say, there's a lot that happens in these new nine episodes. You definitely want to see them sooner rather than later, because it's sure to be all anyone will be able to talk about, myself included. Not to mention, you'll want to listen to Steph's awesome new song on repeat throughout the holiday season.
Fuller House Season 3B is now streaming on Netflix.
Check out Romper's new video series, Romper's Doula Diaries:
Watch full episodes of Romper's Doula Diaries on Facebook Watch.