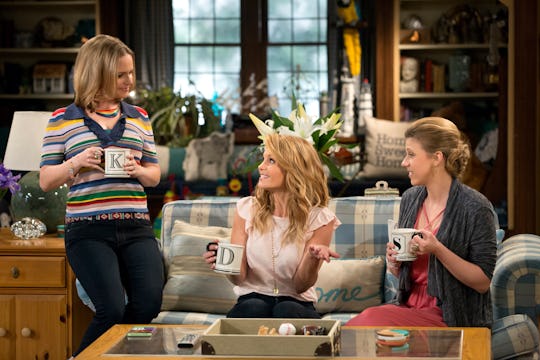 Mike Yarish / Netflix
This 'Fuller House' Season 3 Song Is Extremely Catchy
Keeping with the tradition of song and dance on the series, Fuller House Season 3 opened with a super cute musical number, led by Max. And if you're anything like myself, you'll probably catch yourself singing the tune for the rest of the day. It's catchy AF. As most people know, the only way to get a song out of your head sometimes is to listen to it so much that your brain can't handle it anymore (this is a working theory). So where can you buy the "Best Summer Ever" song from Fuller House Season 3?
As of right now, it's not available anywhere, but there's hope. Although all of the musical numbers from the Netflix reboot aren't available to buy, you can aleady get the updated theme song sung by Carly Rae Jepson and Stephanie's song, "Boy Next Door" from Season 2 on iTunes. There's no full soundtrack, but if Stephanie's song (sung by Jodie Sweetin herself) was *the* song of Season 2, this "Best Summer Ever" track might be the hit this season. Unless, of course, John Stamos does something totally amazing later on in the season. Even so, Max's opening number will be difficult to beat.
If Netflix decides to not put up the tune for sale or find some other way to sell it to you, it will most definitely be on YouTube ASAP. So you might not be able to own it, but you can listen to the official version on Netflix's YouTube channel, which is not a bad deal. Anyway, the dancing is sort of the best part and this way you can do both.
Like the two seasons before it, Season 3 of Fuller House is all about nostalgia. For one, the premiere date (Sept. 22) is the 30th anniversary of the premiere of the original series and Danny, Joey, and Jesse actually do show up in similar clothing that they wore on the first episode, according to the men themselves in the recently released Season 3 trailer. A lot has changed though. Warning: minor Season 3 spoilers ahead!
This season, the long game is leading up to Steve's wedding in Japan, in which D.J. will be a bridesmaid — making the whole "is she really ending up with Matt?!" scenario as drawn out as humanly possible. It also looks as though not everyone is as perfect and happy as they seem. Early on this season. D.J. tries to help Stephanie get her life together, only to eventually break down and admit that she even schedules her crying fits. Because of course she does.
But that is exactly why Candace Cameron Bure loves playing D.J.. Ahead of Season 2, she told Vanity Fair that the relationships between her character, Steph, and Kimmy only work because D.J. is so tightly wound up. But that doesn't bother her at all, in fact, she could do this Fuller House thing forever.
I'm hoping it begins to build and grow. I love hearing the stories. It's this show that is generational, and it has this legacy of its own."I hope there's a *Fullest House. I hope it never ends. We'll just keep rebooting it. And then our kids will grow up, and we'll get to be grandparents. Who knows. As long as people love it, and as long as it's producing good content, is as long as I'll be on it.
So be prepared for more musical numbers and as much of the Fuller, Tanner, and Gibbler family for the foreseeable future.
Watch Romper's new video series, Romper's Doula Diaries:
Check out the entire Romper's Doula Diaries series and other videos on Facebook and the Bustle app across Apple TV, Roku, and Amazon Fire TV.