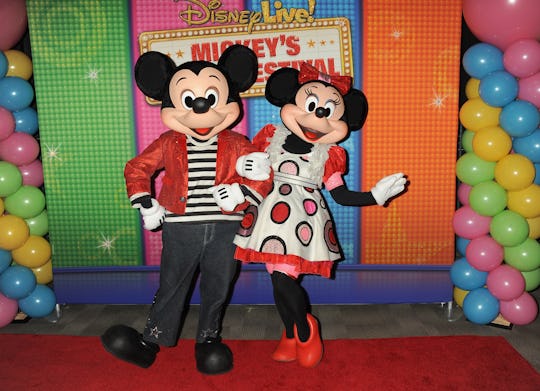 Jennifer Graylock/Getty Images Entertainment/Getty Images
Can You Buy The Rose Gold Minnie Ears Online?
Drop everything, guys: Disney is finally getting on board with 2017's obsession with rose gold, and the results are just as glorious as you'd expect. There are now glittery Minnie Mouse ears in the champagne hue, and as pictures of the accessory have made their way onto social media, the internet's collective obsession with them has tripled. Since most people can't make it to Disneyland or Walt Disney World on short notice, though, fans are now wondering: can you buy the rose gold Minnie ears online?
Much to many fans' disappointment, the rose gold ears don't seem to be available online at the Disney Store yet. According to the Disney Style blog, the ears are currently only sold at the Disneyland Resort and Walt Disney World. And even if you're willing to get on a flight ASAP to go purchase some rose gold ears, you might want to hold off for a while: according to Allure, both locations are sold out of the ears until October. Absolute blasphemy, right?
Considering the loud clamoring for the headbands and the lack of them online, some Disney-goers have taken to eBay to re-sell their rose gold ears — but getting a pair through a website like eBay or Craigslist might set you back a pretty penny. The Minnie ears sell for just $25 at Disney, but some resellers online are listing theirs for up to $125. Other people are selling headbands on eBay that are definitely more handmade replicas than they are Disney originals, and Etsy also has its fair share of lookalike Minnie Mouse ears.
If you're not down to roll the dice with some handmade originals, however, and you don't want to reward the vultures who buy out Disney's stock of headbands only to sell them for profit online, ask any friends visiting Disney soon to keep an eye out for the headbands for you. After that, let Disney know how much you love the accessory, because who knows? It's getting so much love online that I wouldn't be surprised if the company decided to add the rose gold Minnie Mouse ears to its Disney Store, and a little extra pressure could help the company realize there's a (huge) market for it.
After that, however? There's not much that can be done. We can just sit back and sigh jealously when we see the rose gold ears on social media, and hope Disney gives the people what they want soon.