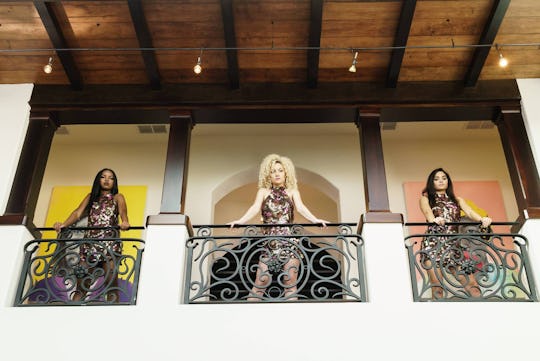 Tina Rowden/FOX
Can You Buy The 'Star' Soundtrack? The New Series Features Original Music
Between Taraji P. Henson's powerhouse performance as Cookie Lyon and the addictive soapy (and Shakespearean) drama at the heart of the show, it's no wonder that Empire became a massive hit practically overnight. So fans of the series were thrilled to find out that series co-creator Lee Daniels would be at the helm of another similar project. Much like Empire, Daniels' new series Star follows the dark side of fame and success in the music industry. Starring a trio of talented newcomers, the show features all-new original music that will definitely make viewers want to know: can you buy the Star soundtrack?
There's no doubt that there will be plenty of catchy original music to enjoy from the new show, especially since living legend Queen Latifah will be starring in a major role. On Dec. 9, Republic Records released an EP with four songs from the Stars series premiere: "I Can Be," "One Day (feat. Queen Latifah)," "Break Yo Chest," and "I Bring Me." The EP is available on Apple Music, iTunes, Spotify, Amazon, and Google Play. Snippets of "I Can Be" and "I Bring Me" were shared via Twitter, in video clips of the songs as they're performed by the girl group in the first episode.
While details about the full season soundtrack have yet to be announced, it's all but guaranteed that it will be made available sometime during the course of Season 1 of the new show or after its end. This likelihood is based on the release schedule for the soundtracks from Daniels' earlier series. Empire's Season 1 soundtrack was released on March 9, 2015, a little over a week before the first season had aired its finale. Music for the show's second season was released in two additional soundtracks — Volume 1 was released midway through the second season, while Volume 2 was released a few weeks prior to the season finale. If Star is the hit it's shaping up to be, chances are we'll hear about the official season soundtrack sometime within the first few months of 2017.
The new series follows a trio of young women, Star (newcomer Jude Demorest), the show's titular main character who was raised in foster care, her sister Simone (newcomer Brittany O'Grady), and the wealthy daughter of a music legend, Alex (newcomer Ryan Destiny). The girls are under the guidance of Queen Latifah's character Carlotta Brown (the godmother of Star and Simone) and Jahil Rivera, a possibly shady, washed-up music manager played by Benjamin Bratt. So Empire-esque drama and intrigue is sure to ensue.
Star premieres on Dec. 14 at 9 p.m. (ET) on FOX immediately following the Empire midseason finale.