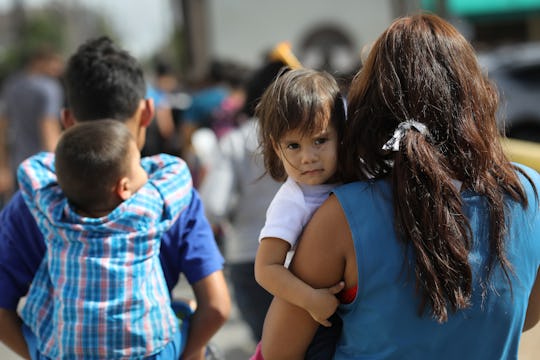 John Moore/Getty Images News/Getty Images
How To Donate Diapers To Babies & Toddlers In Detention Centers & Tender Age Facilities
While controversy surrounding the family separation policy continues to unfold, you may feel moved to help the children who are caught in the crossfire of this situation. So can you donate diapers to detention centers to help out these kids? Young infants and toddlers are reportedly being held in "tender age" facilities, as noted in CNN. And these kids may need help with basic necessities.
Two organizations, Baby2Baby and KIND, have partnered up to provide basic necessities to the children who have been separated from their parents. While they are unable to get items directly into the detention centers, they are creating bundles of needed items (diapers, clothes, etc) to be given to immigrant children post-release from these government-issued facilities, according to a Baby2Baby rep.
Their combined Target registry of baby items for the detention center kids includes everything from diapers to formula. And at this time of strife, you may be heartened to see that many people have already made donations. (In fact, an earlier registry was available on Amazon, but it crashed due to overwhelming response.) That said, many more basic supplies are still needed. Consider sending the kids some necessities through their list. And if you are in the Los Angeles area, you can help assemble these bundles by emailing volunteer@baby2baby.org.
A nonprofit organization, Baby2Baby provides diapers and other basic necessities to low-income children ages 0 to 12, according to its website. In the past 7 years, the organization has given out 39 million items and 22 million diapers to children in need, as further noted on its website. The organization directly works with families in the Los Angeles area. In addition, the Baby2Baby National Network has over 20 hubs all across the United States, from Florida to Washington state. For years, this organization has helped families provide better care for their children, so it's no surprise that Baby2Baby has reached out to the children affected by the family separation policy as well. Seriously, these people do good work.
The second organization involved in this effort, Kids In Need Of Defense (KIND), has served over 16,000 children during its 10 years of operation, as noted by its website. The people behind this organization make sure children don't have to appear alone in immigrant count, and they work to advance the policies that govern child migration. A combination of legal and social services help them meet these goals. Their website also provide a great set of resources to help you understand the reality behind the 1997 Flores Settlement Agreement and other legal info about immigration and children. It's an all-around great org that's dedicated to helping these vulnerable kids.
Although donations of basic necessities may feel like the most helpful way to get involved, don't underestimate the power of cash donations as well. Seriously, donating cash gives charities more flexibility to help those in need, as explained in Charity Navigator. There are plenty of organizations that work directly with children affected by the family separation policy, and they can definitely use your cash donations now.
For instance, a donation to ActBlue Charities will divide your donation evenly among 14 charities that support children at the border. The supported organizations include Human Rights First, Fuerza Del Valle, and The Florence Project, as well as KIND. In addition, the Immigrant Child and Family Rights Project works to end the process of criminally charging parents and separating them from their children. Donations allow the organization to provide more Child Advocates to these children in detention. It's a direct way to help combat this separation of families.
Overall, the family separation policy has generated serious concern among many Americans (and the rest of the world). You only have to glance through those haunting photographs of children held in detention centers to feel moved. I mean, even longtime journalist Rachel Maddow cried when reporting about the "tender age" shelters, as noted in Romper. It's a heart-wrenching situation.
But you don't have to wait for politicians to stop playing the blame game before taking action. Thankfully, there are many individuals and organizations dedicated to helping these kids caught in the middle of a political struggle, and you can add to their efforts today.
Editor's note: This post has been updated from an earlier version to clarify when the children would be receiving these supplies from Baby2Baby.