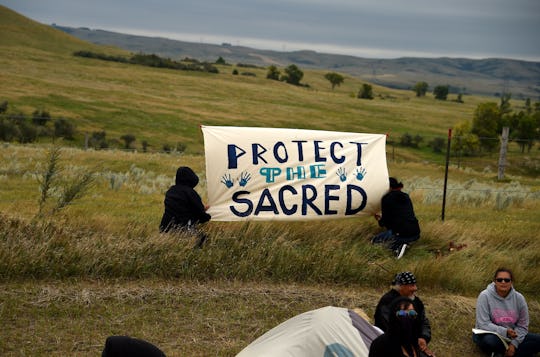 ROBYN BECK/AFP/Getty Images
Can You Donate Goods To The Standing Rock Protesters? There Are Options
Efforts to stop (or at least reroute) the construction of the Dakota Access Pipeline in North Dakota have been tiresome, and especially as of lately, threatening for protesters. For months, protestors, people standing in solidarity, and Native Americans who more accurately refer to themselves as "protectors" of the land and water, have feared that the Dakota Access Pipeline, which would run near the reservation of the Standing Rock Sioux Tribe, would endanger the water supply and sacred sites. If you are deeply moved by the situation, you may be wondering how you can help. So, can you donate goods to the Standing Rock protestors? There are options. Viral video footage making rounds on the internet, which captures the troubling clashes between protestors and law enforcement, have resonated with many.
Though the demonstrations to protest the pipeline have been going on months, for the last two months, news coverage notably stemming from Democracy Now! has shown that it's taken a violent turn. Demonstrators have reportedly faced attack dogs, pepper spray, and rubber bullets from security guards working for the Dakota Access Pipeline company, and law enforcement. Not to mention more than 100 protesters have been arrested, according to TIME.
The Sacred Stone Camp, created with dedication for "stopping and raising awareness [about] the Dakota Access [Pipeline], the dangers associated with pipeline spills, and the necessity of protecting the water resources of the Missouri river," created a "needed" supply list for donators.
The full supply list can be found on its website, but the "top needs" list contains the following:
FIREWOOD (PREFERABLY OAK, MAPLE, ASH)
TIPIS/TIPI POLES/TIPI LINERS FOR WINTER
PICK-UP TRUCK W/ 4 WHEEL DRIVE
TRAILERS/CAMPERS (FOR WINTER SHELTERS)
SNOW TIRES - VARIOUS SIZES
GIFT CARDS FOR LOWES OR MENARDS (THERE IS NO HOME DEPOT NEARBY)
WALL TENTS WITH WOODSTOVES AND POLES
SLEEPING BAGS FOR SUBZERO TEMPERATURES (INC. MILITARY STYLE)
There are also ways to donate monetarily to the cause. The Standing Rock Sioux Tribe is collecting donations directly to its website. And as Money reported, The National Congress of American Indians is calling for non-monetary support by asking supporters to make calls and send letters of support for the Standing Rock Sioux Tribe directly to the Obama Administration, the Department of Justice, Army Corps, and North Dakota Gov. Jack Dalrymple.
Whether those looking to contribute decide to donate to a GoFundMe account (this particular account appears to have been created by the official Sacred Stone Camp, which has raised more than $1 million), send supplies, or stand in solidarity by signing petitions – or by actually traveling to North Dakota – there are a lot of options for supporters to explore.
The Dakota Access Pipeline protest continues to need the world's attention.