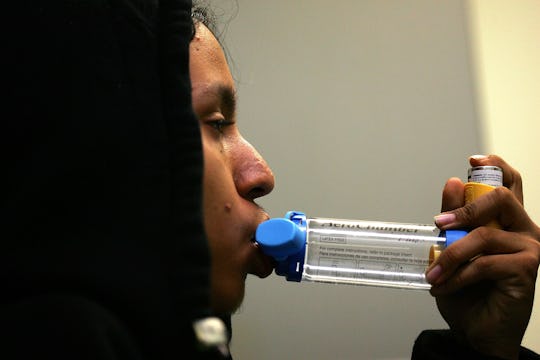 David McNew/Getty Images News/Getty Images
Can You Get A Refund For Your Recalled Inhaler?
When a company voluntarily recalls a product, especially one you own, it can be a little tricky finding out what to do. But those who use albuterol inhalers shouldn't panic after Friday's voluntary recall, when GlaxoSmithKline voluntarily pulled some 600,000 albuterol inhalers from shelves in the United States. Surely, after this voluntary recall, some people are wondering: Can you get a refund for your recalled inhaler?
Nobody who uses an inhaler wants their medication to be in jeopardy — especially because inhalers are vital to those who suffer from shortness of breath and experience asthma related symptoms (not to mention expensive). But those who use albuterol can take a deep breath — no pun intended — because here's what's most important about the voluntary recall.
GlaxoSmithKline pulled three lots — 6ZP0003, 6ZP9944, and 6ZP9848 — of Ventolin HFA inhalers from shelves due to a potential issue with the delivery system, according to CNN. But the good news is, it is unlikely these inhaler lots ever reached the homes of those who regularly use them. That's because the inhalers have been voluntarily recalled from "hospitals, pharmacies, retailers and wholesalers in the United States" — and it's not a patient-level recall, according to CNN. This means that you might be out of luck when it comes to getting a refund for your voluntarily recalled inhaler, but your own product at home likely wasn't affected.
CNBC explained why a refund or return for these inhalers might not be necessary:
The defect does not pose a danger to patients, so they are not being asked to return inhalers they have already purchased.
According to the outlet, the problem with the product lies in a leak of the propellant that delivers the medication — which could have caused the product to deliver fewer doses of the medicine than indicated. The product isn't dangerous to those who have it in their possession, they're just not getting the best bang for their buck.
If you did end up with one of these inhalers, don't worry. Patients who have an inhaler in their possession are being told not to return the inhalers, according to the Asthma and Allergy Foundation of America, and should call the company's response center at 1-888-825-5249 with any more questions — even questions about getting a refund. And if you just happened to pick up a Ventolin HFA inhaler from the pharmacy in the past few days, you shouldn't be affected, either. According to the AAFA, the voluntary recall "should not affect pharmacy supplies."
It is important to note that if your device is not relieving symptoms as it usually does, you should seek medical treatment immediately and call the response center later. Because even if you're frustrated about the voluntary recall process, asthma isn't something you want to mess around with.