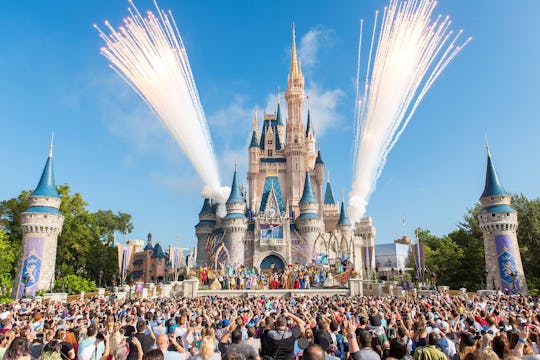 Handout/Getty Images Entertainment/Getty Images
Can You Get A Refund From Disney World If Hurricane Matthew Ruined Your Plans?
As the increasingly severe Hurricane Matthew approaches central Florida, even the happiest place on earth must temporarily board up its doors. Closing at 5 p.m. today and remaining closed through at least Friday, Disney World is doing the best that it can to keep residents and visitors safe. If you were planning an upcoming fall trip to the parks, you're probably wondering: Can you get a refund from Disney World if Hurricane Matthew ruined your plans?
Disney World posted an FAQ on its official website this week detailing its Hurricane Matthew procedures and policies, ultimately informing visitors that "Dining and Disney Resort hotel cancelation fees imposed by Disney will be waived for all Guests." So, it seems that all Disney accommodations can easily be changed or refunded if guests contact the resort directly.
The aforementioned 5 p.m. closings include "Walt Disney World theme parks, water parks, Disney Springs, miniature golf courses and ESPN Wide World of Sports Complex," according to a statement on the header Disney's website. As per Disney's usual cancellation policy, guests are always allowed to "reschedule or cancel...Walt Disney Travel Company Magic Your Way vacation package[s] and most room only reservations (booked directly with Disney) without any cancellation or change fees imposed by Disney."
Thursday's closure is only the fourth time that Disney World has closed since it opened in 1971. The previous three closings occurred on Sept. 4 and 5, 1999; Sept. 15, 1999; and Sept. 26, 2004, all due to severe hurricanes. The parks were also evacuated on Sept. 11, 2001.
Truly, Hurricane Matthew is already a massive deal, as it's responsible for at least 100 deaths in Haiti. The National Weather Service reported Thursday afternoon that "extremely dangerous, life-threatening weather conditions are forecast in the next 24 hours." Hurricane Matthew is an extreme case and has been called "the strongest storm system to threaten the United States in a decade" by The Washington Post. As a Category 4 storm reaching 140 mph winds, Florida officials have been repeatedly insistent in telling 1.5 million residents that they need to evacuate immediately.
Thanks to Disney World's lax policies, visitors can reschedule or cancel trips without compromising the safety of their families. Disney World has provided a phone number on their help page if guests have any further questions about existing reservations: (407) 934-7639. It can't be stressed enough that Hurricane Matthew has already caused immense damage and will continue to do so through at least the next couple of days.