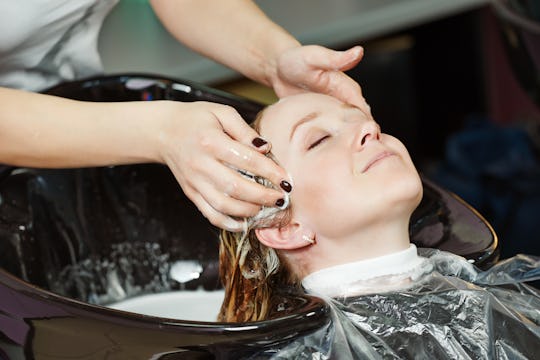 Kadmy/Fotolia
Everything You Need To Know About Getting Balayage While Pregnant
Hair trends are constantly changing, from exotic colors and techniques to innovative cuts and styles. But if you are a pregnant mom, you may be concerned about using hair color or treatments. The most popular trend recently has been balayage hair coloring, and if you are expecting, you might want to know, can you get balayage while pregnant?
What is balayage anyway? Balayage, according to Redken, is a French term for a highlighting technique that refers to the sweeping or painting of hair color or bleach onto the surface of your hair. Most stylists use a freehand technique for balayage, explained Redken, that results in soft highlights to give you a sun-kissed, natural look.
So is balayage safe during pregnancy? In an interview with Romper, Dr. Munir Ahmed of Emerald Physicians says that during the first trimester, you should avoid dyes on your scalp, but getting highlights throughout your pregnancy should be OK. "If the dye or chemical is not being directly absorbed into the pregnant mother's skin," says Ahmed, "there should be no harm." He does note, however, that you should make sure you are in an environment that has enough fresh air, especially if you're suffering from morning sickness. "Fumes from dyes can make an already nauseated mother feel even worse."
The American Pregnancy Association suggested that while highlights are safe during pregnancy, if you are concerned, you can use natural dyes, like henna or vegetable dyes, or you can wait until after your pregnancy, as it's best to avoid anything involving dyes, chemicals, or fumes — at least during your first trimester.
So it's completely safe to get balayage highlights for your hair during pregnancy, just make sure that the fumes don't make you feel queasy. The good news is, being pregnant doesn't mean you can't have fabulous looking hair. Add in those prenatal vitamins and you're ready to be on a magazine cover.