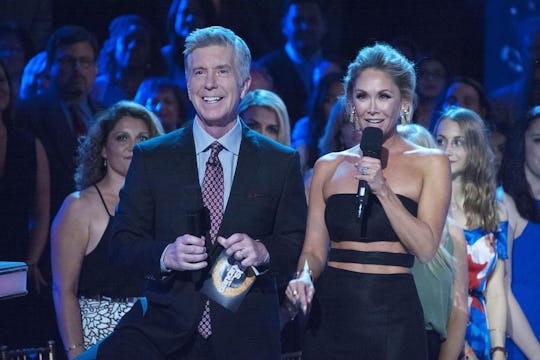 Eric McCandless/ABC
Can You Get 'Dancing With The Stars' Tickets? You'll Have To Be Pretty Lucky
The beauty of live television is, of course, that anything can happen at pretty much any moment. We saw this on Dancing With the Stars on the first episode of this season when Ryan Lochte's critique was interrupted by a troupe of protestors. While the rest of us had to wait a day to find out what just happened, the lucky ducks in the live audience saw the whole thing first hand. How did these people get to be there? Can you get Dancing With the Stars tickets? You can, you'll just have to be pretty lucky.
Well I've got good news and bad news. The good news is that anybody can get tickets and they are my favorite price, free! The bad news is that because they are free, not everybody will get a chance to attend one of the shows live. Tickets are allotted via lottery system. In order to get one, you'll have to sign up to join a waiting list for the show you would like to attend. The winners are then selected on a first-come first-served basis. However, there are a few ways to give yourself an advantage, if you are not one of the "first-come."
On Camera Audiences, the site for joining the wait list to see the show, says that while tickets are given away first-come first-served, it also stipulates that a few tickets will be reserved for new fans who are just now joining the wait list for the first time. So if you're a first-time Dancing With the Stars fan, you could be in luck with a little preferential treatment. And of course, there is also a way to use social media to your advantage.
Some priority tickets will be given away on On Camera Audience's Facebook page. After joining the wait list you can enter the priority ticket lottery on Facebook and you might just luck out. Some random winners are also selected via Twitter and Instagram for a few lucky followers. Just think, one lucky Facebook post and you could be sitting in the audience next to Laurie Hernandez's Olympic teammates, cheering her on to victory.
The show also makes certain accommodations for people who need easily accessible seating. If this is a case, there is a number to call in advance to reserve the necessary seats. Again, there is a limited availability for these seats, so time is of the essence.