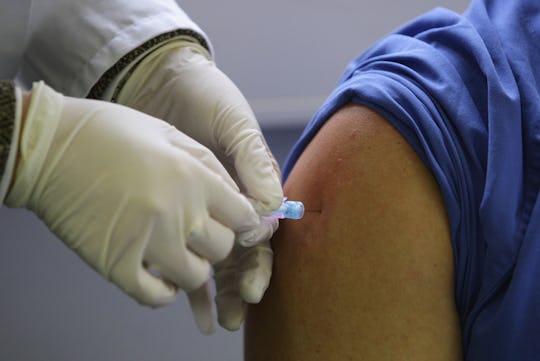 Andreas Rentz/Getty Images News/Getty Images
Why Pregnant Women Should Get A Tetanus Vaccine
As if the current political landscape we're all living in now isn't enough to stress you out, there's also the resurrection of age-old diseases to cause worry for you and your family. From cases of whooping cough shutting down schools, to norovirus making the rounds once again, the health of adults and children alike is seemingly more at risk now than ever. And while protecting yourself and your kids from harmful diseases is crucial, it's also important to know what shots and vaccines are available to you, and if they're safe for you, depending on if you're pregnant, trying to get pregnant, or have recently given birth. So, along with other crucial questions you need to ask is this: Can you get vaccinated for tetanus when you're pregnant? In short, the answer is, quite simply, yes.
In fact, according to the Centers for Disease Control and Prevention, the recommended vaccinations for women who are pregnant are the Influenza shot and the Tdap shot. The Tdap, or Tetanus toxoid, reduces diphtheria toxoid, and the acellular pertussis vaccine prevents tetanus, whooping cough, and diptheria, all three diseases that are a lot worse for children, and for which babies can't get vaccinated until they're a bit older. Essentially, when you get vaccinated for tetanus while you're pregnant, you're protecting your child, as well as yourself.
Of course, each woman's body is different, and you should always consult with your doctor before getting vaccinated. But for the most part, these two vaccines are the most agreed upon by doctors for women who are expecting. As the CDC says,
Benefits of vaccinating pregnant women usually outweigh potential risks when the likelihood of disease exposure is high, when infection would pose a risk to the mother or fetus, and when the vaccine is unlikely to cause harm.
It's understandable that women, and especially mothers-to-be, would be more wary about what is going inside their bodies, as reports of vaccine side effects are somehow always making the rounds, scaring people into believing that all vaccinations lead to developmental issues in infants whose mothers were immunized while pregnant. However, this has been proven time and again to be untrue.
So, worry not. Getting a tetanus vaccination while you're pregnant is not only safe, but highly recommended by specialists. "To maximize the maternal antibody response and passive antibody transfer to the infant, optimal timing for Tdap administration is between 27 and 36 weeks of gestation although Tdap may be given at any time during pregnancy," the CDC says.
Go on, pick up the phone and call your doctor — your baby will thank you for it later.