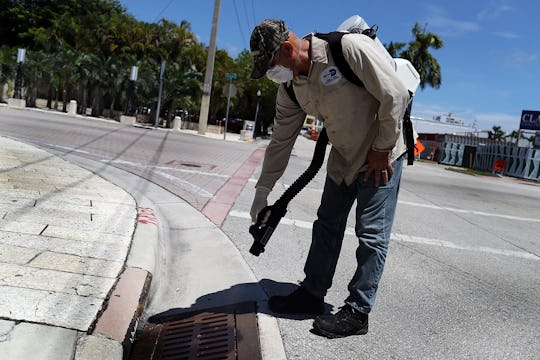 Joe Raedle/Getty Images News/Getty Images
Can You Get Zika From Food? Officials Have Not Listed Food Contamination As A Concern
New developments and news surrounding Zika have felt somewhat never-ending. The virus, which spread throughout the Americas last year, has made its way to the United States with local mosquito-borne virus transmissions reported in Miami. Information on how Zika is transmitted has continued to develop since its outbreak in early 2015 in Brazil. In light of the Food and Drug Administration's recent recommendation to screen blood donations on Zika, some may be wondering: Can you get Zika from food? It seems as though public health officials have not listed food contamination as a risk for transmission.
On Friday, the FDA recommended that all blood banks in the United States screen donations for the Zika virus.
"There is still much uncertainty regarding the nature and extent of Zika virus transmission," Dr. Peter Marks, director of the FDA's Center for Biologics Evaluation and Research said, according to NPR. "At this time, the recommendation for testing the entire blood supply will help ensure that safe blood is available for all individuals who might need transfusion."
According to the CDC, Zika can be transmitted through blood transfusions. As of February, there have been no reports of blood transfusion transmissions in the United States, though there have been reports of blood transfusion transmissions in Brazil, the CDC report read.
The CDC also lists the following ways Zika can be transmitted: travel, laboratory exposure, sex, mother-to-child during pregnancy, and mosquito bites.
While food contamination does not appear to be listed as a risk for transmission by the CDC, or the World Health Organization, scientists, and health officials have previously explored deep kissing as a potential risk — a new development revealing risks associated with saliva. Back in June, public health officials noted that significant saliva exchange during deep kissing can in fact transmit the virus, though the risk is low.
Dr. William Schaffner, medical director at the National Foundation for Infectious Disease told CNN that for transmission to occur, it would have to result from "French kissing":
...We're talking about deep kissing, or French kissing, where a lot of saliva is exchanged and the tongue goes into the partner's mouth. It would have to be what I call passionate kissing.
Dr. Anthony Fauci, director of the National Institute of Allergy and Infectious Diseases, shared a similar sentiment, adding that it would be a "rare event," according to CNN:
Saying it can be transmitted via saliva is going way past probability. More than likely, it's a very rare event if it occurs at all. A mosquito bite is overwhelmingly the main way this virus is transmitted, with sexual acts involving semen a distant second.
Since the public health officials still name mosquitoes as the primary source of transmission, it's important to continue to protect yourself by using mosquito repellent, wearing long-sleeved shirts and long pants, and avoiding areas (if possible) where Zika transmission has been detected.