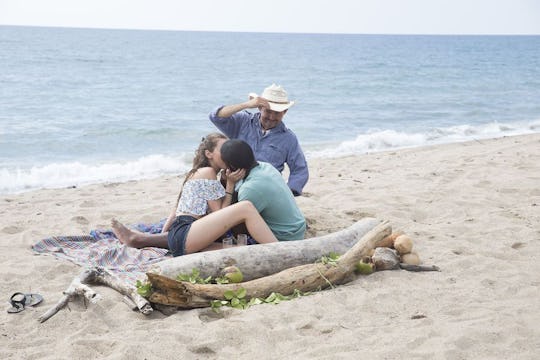 Paul Hebert/ABC
Jorge Returned To 'Bachelor In Paradise' For A Special Reason
One of the cutest one-on-one dates on Season 4 of Bachelor in Paradise was between Diggy Moreland and Lacey Mark, who got to reunite with a beloved BiP alum for a guided tour on horseback. Jorge, the erstwhile Paradise bartender, was replaced by Wells Adams this season so that he could pursue his dream of launching a tour company called — what else? — Jorge's Tourges. But can you go on Jorge's tour from Bachelor in Paradise? Good news! It's a real business, open to the public!
Jorge's working under a local tourism company called Nayarit Uncovered, and you can find contact info for them both in his Instagram bio and on their Facebook page. So if you're planning a trip to Mexico, it seems easy enough to book Jorge's charming presence for the full Bachelor in Paradise experience.
For Diggy and Lacey's date, Jorge took them on a horseback ride through the Mexican wilderness, eventually ending on a secluded beach. They rode along the shoreline by themselves for awhile, until they came upon a lovely, champagne-accented, oceanside picnic set up by Jorge. He then regaled them with a slightly awkward story about how he was conceived on that very beach, but he took the hint gracefully when Diggy asked for some alone time with Lacey.
Ultimately, Jorge showed his passion for introducing tourists to his turf, telling viewers that his dream was to share the secrets of his beautiful hometown with the world. "Hopefully, I think that I can make someone fall in love with someone else by going to all these beautiful places," he said in a cutaway interview. "Something I will guarantee is that I will find the most romantic place, because nobody knows this area better than me — places that you're not going to find with anyone else."
And, as Diggy pointed out, Jorge has been the resident therapist for three seasons' worth of bummed out Bachelor in Paradise contestants drowning their complicated love triangle sorrows at the bar. Jorge's always been a great listener, providing empathetic and compassionate counsel to sunburnt, eyelash-dangling, love-scorned people. I have no doubt that whether he's taking a bachelorette party on a tour or a honeymooning couple, Jorge will be the perfect person to inspire awe, entertain, and handle cranky, drunken travel meltdowns should things go south. Presumably, he'll also make you cocktails and order you pizzas if you ask nicely.