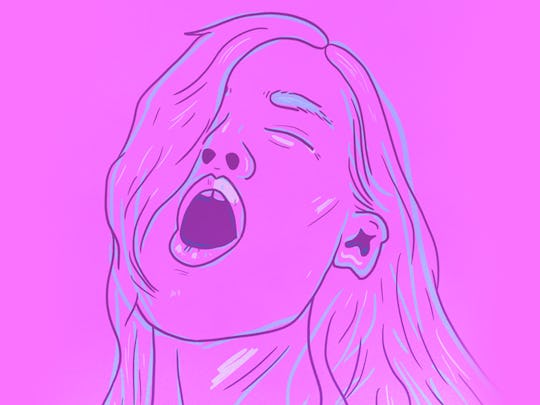 Courtesy of Claire Joines/Romper
Can You Have Anal Sex While Pregnant? A Bump In The Front Shouldn't Stop You From Sex In The Rear
Pregnancy changes a lot about your body. You may find that a growing belly and unfamiliar symptoms mean you have to adjust the way you sleep, the way you sit, and yes, the way you have sex. If you're someone that enjoys backdoor play, you may wonder if you can still engage in anal sex while pregnant.
According to Leah Torres, an OB-GYN that specializes in reproductive health, "there's no reason why anal sex wouldn't be safe," if you're having a normally progressing pregnancy (That being said, you should always talk to your doctor.) She adds that there's no risk to the fetus during intercourse in general, and cites many health benefits to having sex with a partner, including that it promotes bonding between people, relaxes the person carrying the baby, and decreases stress levels.
One thing to look out for during pregnancy that would make anal sex unsafe is the presence of hemorrhoids, a lovely side effect of pregnancy that some people experience. If you have hemorrhoids, you should avoid anal sex. Another thing that would make anal intercourse a no-go would be a diagnosis of placenta previa, which, while uncommon, makes sex unsafe for the pregnant person and the fetus.
If you do want to have anal sex, the same rules apply as when you're not carrying a baby.