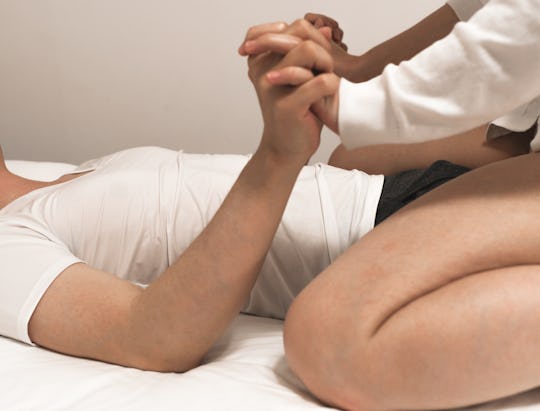 hikdaigaku86/Fotolia
Can You Have Period Sex? 7 Tips To Get It On When Aunt Flo Visits
Period sex is one of those divisive topics that affects almost every couple. Some people are not even phased by it, while others opt to take a weeklong hiatus from any form of intimacy. But can you have period sex safely and not freak out your SO?
In a word: yes. According to the National Health Services, however, it may be easier to transmit STIs during this time. So if you and your SO are not fluid bonded (i.e. you'd agreed to stop using protection), then a condom would be a good idea. Not trying for a baby right now? As explained by the American Pregnancy Association, it is possible to get pregnant while having period sex (although not super likely). So again, to be extra careful you might want to use protection during this time.
Now for the more psychological part: how do you and your SO feel about period sex? Well, this is the time for some super honest conversation. Chances are, your partner may not be as grossed out by period sex as your might fear. And thankfully, there are tons of ways to work around shark week so that you can still enjoy sex without destroying all of your bedsheets. Read on for the best period sex tips imaginable.