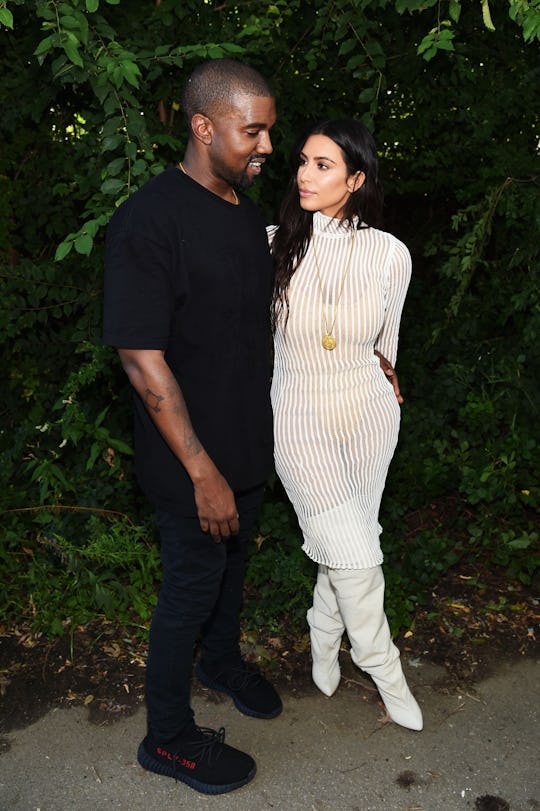 Jamie McCarthy/Getty Images Entertainment/Getty Images
Can You Have Sex When You're A Surrogate?
It might seem ironic that the one time you are trying to get pregnant, you can't have sex, but that seems to reportedly be the case for Kim Kardashian West's surrogate, according to TMZ. In any other case, can you have sex when you're a surrogate?
It varies from clinic to clinic, but for the most part, surrogates are contractually obligated to abstain from sex for the weeks prior to the embryo transfer and up until a positive pregnancy test or beyond, according to surrogacy agency Forward Fertility. This is to ensure that the gestational carrier (GC) does not become pregnant outside of the contract with her own child, and remains able to fulfill her end of the contract.
According to the Houston Fertility Center, sexual activity is discouraged after all embryo transfer operations due to the theory that the pelvic contractions of orgasm may inhibit the body's ability to implant the embryo in the womb. However, after implantation is achieved, can you have sex when you're a surrogate? This comes down to what is in the GC's contract.
For instance, intended parents might stipulate in their contract with their GC that the GC may not have intercourse between the first day of their fertility cycle and a positive pregnancy test. This may be as long as six weeks. However, if there are complications with the pregnancy, the contract may state that the prohibition on sexual intercourse may be extended for as long as the complications continue. The contract might also include provisions regarding condom usage and general notes about safe sex procedure while the GC is carrying the child of the intended parents. This is fairly standard according to All About Surrogacy, and it makes sense. Biological parents are paying a great sum of money to the GC to have the safest, healthiest pregnancy she can have, so they're looking to keep the risks as low as possible.
In most cases, however, after a successful transfer and implantation, the GC can return to her normal sexual activities, provided they're safe and healthy, and within the confines of the surrogacy contract, according to the Center for Surrogacy and Egg Donation. So while you may be thinking that this is just Kim Kardashian and Kanye West acting like demanding celebrities, as it turns out, it's just standard operating procedure for surrogacy.