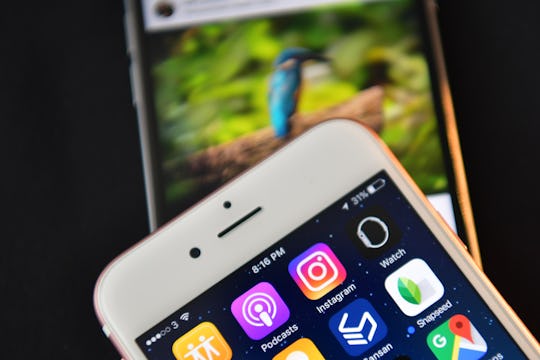 Carl Court/Getty Images News/Getty Images
Trying To Hide A 'Like' On Instagram? This Might Help
Every Instagram user has been there at some point: you're innocently scrolling through the feed of someone who you definitely do not want knowing you are Insta-stalking, when you accidentally like of their photos from several years ago. Cue the panic! Obviously, the natural first step is "unliking" the photo — but is it possible to take it a step further than that? Can you actually hide a like on Instagram?
Recently, Twitter user Kayla Kumari Upadhyaya's friend found herself in such a situation, and she came up with a pretty extra solution. Upadhyaya shared the dramatic tale on Twitter: "my friend accidentally liked someone's very old photo on instagram when she was doing a deep scroll, panicked, n immediately CHANGED HER NAME AND PHOTO ON INSTAGRAM LIKE ASSUMED AN ENTIRELY NEW IDENTITY N GAVE HERSELF A NAME LIKE FRANK B. JONES JUST SO THE PERSON WOULDN'T NOTICE."
Basically, she changed her name and photo on Instagram so that if the person saw that she liked their photo, they would think it was just some rando named "Frank B. Jones." But what if the person clicks on this mysterious Frank character's profile, and it's public, and they quickly notice who all the photos belong to? Lifehacker has a fix for this — the outlet recommends switching your account to private. Genius.
Thousands of people liked Upadhyaya's tweet — but some were a little confused as to why her friend didn't simply unlike the picture, meaning the notification would disappear. "can't she just unlike?" one tweeter commented. "that's what I said!!! but she was worried about them getting the push notification I guess??? she admits now that it was not the most rational reaction," Upadhyaya responded.
Sure, immediately removing your like is probably the easiest course of action — but I don't blame Upadhyaya's friend for taking things to the next level while she was caught up in the moment. One downside to her plan is that her friends could notice her bizarre new Insta identity and wonder what the heck is going on. I guess that's better than the person she was stalking finding out she liked their super old post!
Another downside is that if the person gets push notifications or email notifications, the damage may have already been done before she became Frank B. Jones. "They probably emailed a notification instantly with the old name anyway," someone wrote on Twitter.
But she had already committed to being Frank for the moment — and people are understandably wondering when she'll change it all back. "I keep asking her at what point she'll feel safe to go back to her true identity... is she just Frank B. Jones forever now?" Upadhyaya joked.
If this method is a little too complex for you, the internet offers several other suggestions for covering up an accidental like. ShortList suggests immediately unliking the photo and then liking the person's most recent post (as long as that wouldn't be just as weird). With this tactic, even if the person got a push notification that you liked one of their photos, by the time they open the app, hopefully the only notification from you will be about their most recent photo.
There's also a solution even more extreme than assuming a new identity — ITP Live recommends just temporarily deleting your account. That way, even if the person gets a notification that you liked their post, by the time they open the app, your like and entire profile will have entirely disappeared.
In my opinion, the best solution would be Insta coming up with a feature that asks "Are you sure?" whenever a user tries to like a photo more than a week old. Get on that, Instagram!