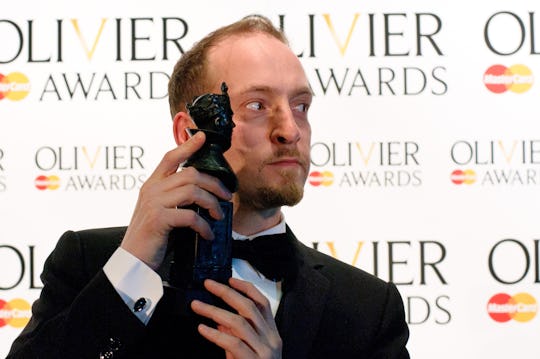 Ben A. Pruchnie/Getty Images Entertainment/Getty Images
You Can Actually Hire Derren Brown From 'The Push,' Though It'll Cost A Pretty Penny
After watching Derren Brown try to manipulate a man into committing murder on Netflix's special The Push, you may find yourself asking one simple question: how do I get this guy as the entertainment for my next party? What event wouldn't be helped by a stressful, high-stakes exploration of the human psyche? But can you hire Derren Brown from The Push?
It seems like you can — though the fee might be something you have to save up for. Brown's official website makes it clear that he "does not currently offer any one-to-one sessions," so if you're after a hypnotist to boost your mental acuity for a test or help you quit smoking, Brown is not your guy. You can, however, keep an eye peeled on his official blog, Facebook, or Twitter for the opportunity to be a volunteer at one of his shows. It may not be private (a crowd of hundreds will be there as witnesses), but it will give you a chance to interact with Brown.
His site also has a section for bookings "if you'd like to enquire about booking Derren for a performance, interview, or speech" with a contact form where you can leave your name, email, and a short message. Fill it out, and soon enough you might be able to have Brown at your next event.
A quick Google search also turns up quite a few different booking agencies that claim to have Brown available for hire. It's difficult to say how many of them are reliable or recent, unfortunately. The best thing would be to go through Brown's authorized website, but it's possible these other sites could allow for an estimate as to the cost of hiring Brown.
Classique Promotions lists Brown's fee at £45k to £65k, which would be roughly 62k to 90k in dollars, while Celebrity Talent International offers the relatively lower price of $15k to $24k. Either way, arranging for Brown to perform or speak at an event would be quite the investment and it's up to you to decide if it's one you want to make. I don't know your bank account; if we're talking Rockefeller money, then there's really nothing stopping you. (Though after his Netflix special, the cost of an appearance might go up.)
However, if it's less important to you to have a personal meeting with a smaller group, then there are other options. You can get tickets to one of his stage shows if the location is close enough and the prices are within your budget. It might not be the private show you're after, but it's probably still plenty exciting. And according to Brown's site, he'll be launching a tour in the United Kingdom and Ireland in 2018 called Underground. If it does well, it might come overseas as well. Underground is like a greatest hits of Brown's previous shows, so it sounds like a good one to catch. Official London Theater describes it as guaranteed entertainment, adding:
Peppered with poignant personal anecdotes, Derren Brown: Underground strikes home a self-affirming — and often quite touching — message. The result is a more intimate showcase of his talents than you might expect, and it's all the more impressive for it.
If none of those possibilities work for you, then you may have to comfort yourself with the countless specials Brown has done for television, or check out The Push, which debut on Netflix on Feb. 27. It will be followed by two more specials for Brown fans eager to see more. You might not be able to hire Brown to roll into your chosen event hall and upend everything you thought you knew about yourself (for a tidy fee!), but you can still enjoy the experiments he has to offer in some other form.
Check out Romper's new video series, Romper's Doula Diaries:
Watch full episodes of Romper's Doula Diaries on Facebook Watch.