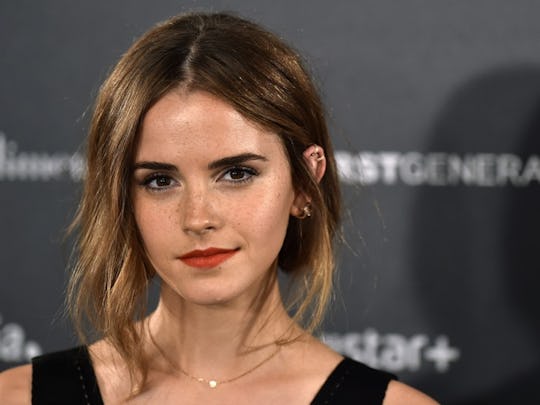 Gerard Julien/AFP/Getty Images
Can You Join Emma Watson's Feminist Book Club? Because Feminist Book Nerds Need To Unite
Deep breaths, everybody. The moment feminists and Harry Potter fans have been dreaming of has finally arrived: fans can now all be best friends with Hermione Granger! Ok, I'm exaggerating a little. A lot. Fine, I'm flat-out lying. But it's almost the next best thing: fans can feel like they're casual friends with the actress who played Hermione if they join Emma Watson's feminist book club. Practically the same thing, right? Right.
It all started on Wednesday, when Watson tweeted that she wanted to start the club, but didn't yet have a name, according to the Guardian. The suggestions came pouring in, with more than a few bad puns on the actress and ambassador's name popping up, such as "Wats On Your Shelf" and "Emmapowerment! A Book Club." Others suggested Harry Potter-inspired names, like "Hermione's Army" or "S.P.E.W. (Society for the Promotion of Education for Women)" (I have to say, that's actually kind of clever). But the glory went to user @emilyfabb, who came up with Watson's pick: "Our Shared Shelf."
Other fans offered ideas for which authors the club should start with, such as Gloria Steinem and Bell Hooks. Sophia Bush, Daphne Zuniga, Abby Wambach, and Kate Voegele all asked if they could get in on the fun, and Watson promised that Taylor Swift and J.K. Rowling are invited, according to the L.A. Times, as well as Rowan Blanchard. Clearly this is a squad that everyone wants to join (though Rowling has yet to reply).
So what's the deal? Is everybody invited? Is this a Twitter-only thing, or will celebs be knocking at my door looking for wine and cheese? It's unclear if "joining" the club means just following along on Twitter, or maybe Watson will start something more formal like an email listserv with all the books. But fans of Watson's will likely be able to join somehow. Watson tweeted that more information will be coming soon, so be sure to follow her on Twitter so you don't miss out.
Image: Gerard Julien/AFP/Getty Images